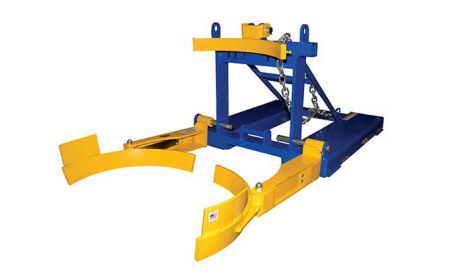 Beacon

®

BFPDL Series

The Forklift Drum Stacker - Plastic Drum Handler are designed to secure drums so that they can be lifted with a fork truck. This unit includes safety chains and T-locks for securing the unit to the fork truck.
---
Product Details
Size: Model BFPDL-8 fits 55-gallon, round-bottom plastic drums and is 26-1/2" wide x 56-1/2" long x 23" high. Model BFPDL-11-H fits 30- and 55-gallon plastic, steel, or fiber closed-head drums and is 26-1/2" wide x 48-1/2" long x 23" high.
Overall Fork Width: Model BFPDL-11-H has 7-1/2" wide x 2-1/2" high usable fork tubes on 20-1/2" centers. The high drum attachment is for use with a top lip of at least 3/16" H or steel and fiber drums.
Color: Forklift Drum Stacker models are powder-coated Beacon Blue and Beacon Silver and Blue or Beacon Yellow and Blue.
Weight: Units weigh either 160 lbs. or 185 lbs.
Capacity: 800 or 1,100 lbs.
Standard: Forklift Drum Stacker model BFPDL-8-L has adjustable arms and a ratchet strap to secure the drum over rough terrain.
Surcharge: Tariffs or surcharges may apply to current published pricing.
BFPDL - 8 - L - 1 - Video
---
Forklift Drum Stacker - BFPDL Series

Model#
Description
Capacity (LBS)
Overall Size (W x L x H)
Price
1) BFPDL-8-L
Bottom Drum Lifter
800
26½"x56½"x23"
$789.45
2) BFPDL-11-H
Top Drum Lifter
1,100
26½"x48½"x23"
$1,006.62
PROP 65 WARNING
Products on this page may lead to cancer or reproductive harm.
TM
Call Beacon:
800 454-7159