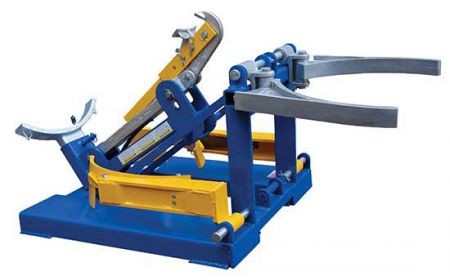 Beacon

®

BDFDL Series

The Forklift Drum Carrier - Fork Truck Drum Mover include attachments to lift 30- and 55-gallon steel, plastic or fiber drums. This series is designed for both open- or closed-head drums. This is a deluxe combo unit that combines a single BFMDL-1 series with a bottom and top lip BFPDL series for ultimate lifting capabilities.
---
Product Details
Construction: These combination units feature all welded steel construction.
Size: Forklift Drum Carrier models have an overall size of 26-1/2" wide x 52" long x 30" high. The fork pockets have an inside measurement of 7-1/2" wide x 2-1/2" high.
Color: Models are powder-coated Beacon yellow and blue.
Weight: 313 lbs.
Standard: Forklift Drum Carrier models include a safety chain and T-locks for securing the unit to a fork truck. A ratchet strap is also included to further secure barrels when traveling on rough and uneven terrain.
---
Forklift Drum Carrier - BDFDL Series

Model#
Accepts Drum types
Max. Overall Size (W x L x H)
Usable Fork Pockets (W x H)
Price
1) BDFDL-3
30 & 55 Gallon Fiber, Plastic & Steel
26½"x52"x30"
7½"x2½"
$1,555.67