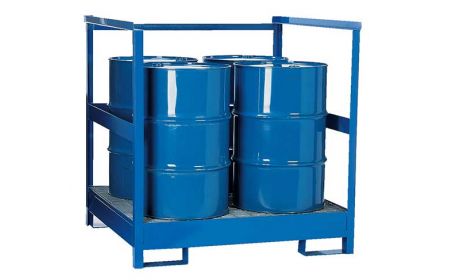 Beacon

®

BSTP Series

The Stackable Drum Basin allows for the safe transport of chemicals. The galvanized grating is easily removed in order to clean the sump. Every product is tested individually after welding and before painting to check for leaks using a low viscous die penetrant test.
---
Product Details
Construction: This unit is constructed from heavy duty welded steel and features removable galvanized grating.
Size: Units are either 55" wide x 34" long x 55" high or 55" wide x 50" long x 54" high.
Color: These Stackable Drum Basin units feature a durable Beacon blue finish.
Weight: Units weigh either 310 or 385 lbs. The optional bar adds just 4 lbs. of weight.
Capacity: The 2-drum unit has a capacity of 1,200 lbs. The 4-drum unit has a 2,400-lb. capacity. Both units have a 66-gallon sump capacity.
Standard: This series meets both EPA 40 CPR - 264.175 and UFC 8003.1.3.4.
Options: An optional 54" security bar is available for the Stackable Drum Basin for added safety during transport.
Surcharge: Tariffs or surcharges may apply to current published pricing.
---
Stackable Drum Basin - BSTP Series

Model#
Drum Capacity
Capacity (LBS)
Overall Size (W x L x H)
Color
Price
1) BSTP-2
2 Drums
1,200
55"x34"x55"
Blue
$1,698.43
2) BSTP-4
4 Drums
2,400
55"x50"x54"
Blue
$1,927.27

OPTION

Model#
Description
Length
Price
3) BSTP-BAR
Security Bar
54"
$120.09
PROP 65 WARNING
Products on this page may lead to cancer or reproductive harm.
TM
Call Beacon:
800 454-7159