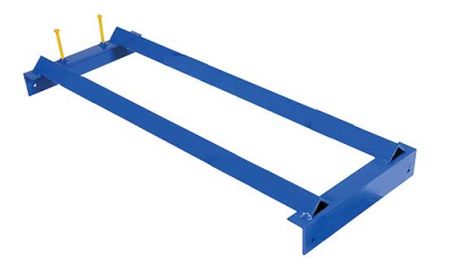 Beacon

®

BPRDC Series

The Drum Cradle Rack is designed to sit in existing 42" deep pallet racks to store drums for easy access. This equipment is ideal for use in areas where pallet racks are in place but there is no room for drum racks. This series is available in two types of models: tilting and rolling. BPRDC-42 feature rear barrel tilting bolts to slope the drum and get up to 3 percent more liquid out. BPRDC-42-R has rotation rollers which allow the barrel to be rotated to dispense liquid and is easier to use with faucets or vents.

See chart below and click a model number
---
Product Details
Construction: Units feature all-welded steel construction. The roller unit has 3" x 1" polypropylene rollers.
Size: BPRDC-42 is 16" wide x 4-3/4" high. BPRDC-42-R is 17-1/4" wide x 7" high. Both models are 43" long.
Color: This Drum Cradle Rack series is powder coated Beacon blue.
Weight: 36 or 42 lbs.
Capacity: This unit works with both 30 and 55-gallon barrels.
Options: An optional drip pan is available for the Drum Cradle Rack to catch and prevent messy spills on dispensing start-up or finish.
Surcharge: Due to supply chain disruption, inflation or material shortages - tariffs or surcharges may apply to current published pricing. Some longer lead times may be incurred.
---
Drum Cradle Rack - BPRDC Series

Model No.
Description
Overall Size (L x W x H)
Works With
Price
1) BPRDC-42
Tilting Pallet Rack Drum Cradle
43"x16"x4¾"
42" deep pallet racks
$244.19
2) BPRDC-42-R
Pallet Rack Drum Cradle with Rollers
43"x17¼"x7"
42" deep pallet racks
$369.54

OPTION

Model No.
Construction
Overall Size (W x L x H)
Length Added
Price
3) BPRDC-DPN
Steel & Plastic
10¾"x8⅜"x4⅛"
8⅝"
$147.35
PROP 65 WARNING
Products on this page may lead to cancer or reproductive harm.
TM
Call Beacon:
314-487-7600