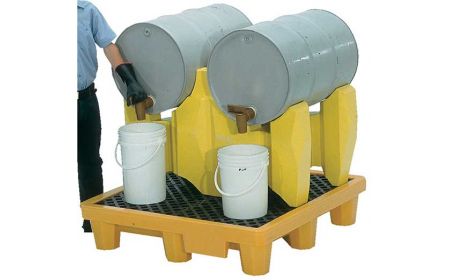 Beacon

®

BPDR Series

The Vertical Drum Basin tilts drums forward in order to maximize chemical drainage while reducing waste. Keep work floors clean and safe by keeping chemicals and oils off the floor.
---
Product Details
Construction: This unit is constructed from polyethylene, making it easy to clean and suitable for most types of chemicals.
Size: Units are 53" wide x 53" deep and are either 44-3/4" or 77-3/4" high.
Color: This Vertical Drum Basin series is Beacon yellow.
Weight: 137 or 189 lbs.
Capacity: The BPDR-2 can handle two 55-gallon drums weighing up to 1,500 lbs. The BPDR-4 has a four 55-gallon drum capacity and a capacity of 3,000 lbs. Both units have a 66-gallon sump.
Options: An optional dispensing shelf is available for the Vertical Drum Basin to make dispensing top drums on the 4-drum model easier. The shelf measures 22" wide x 17" long x 5" high.
Surcharge: Tariffs or surcharges may apply to current published pricing.
---
Vertical Drum Basin - BPDR Series

Model#
Drum Capacity
Capacity (LBS)
Containment Capacity (Gallons)
Overall Size (W x D x H)
Price
1) BPDR-2
(2) 55-Gallon Drums
1,500
66
53"x53"x44¾"
$1,009.94
2) BPDR-4
(4) 55-Gallon Drums
3,000
66
53"x53"x77¾"
$1,302.78

OPTION

Model#
Description
Overall Size (W x L x H)
Price
3) BPDR-SHF
Dispensing Shelf
22"x17"x5"
$109.67
PROP 65 WARNING
Products on this page may lead to cancer or reproductive harm.
TM
Call Beacon:
800 454-7159