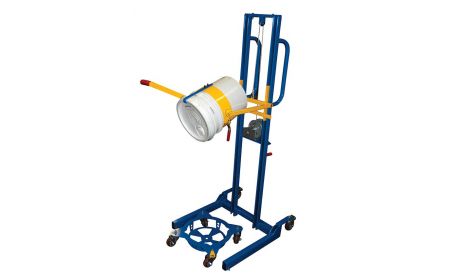 Beacon

®

BLLW-PAILD Series

The Pail Tipper - Pail Dispensers provide 24 angle settings for dispensing 5-gallon plastic or steel pails. They can operate at any height between 1" and 52" by turning the hand cable winch. The BLLW-PAILD-200 features 6" x 2" mold-on-rubber wheels with tilt back "hand truck" design that enables it to go virtually anywhere. These models include 2" diameter front steel wheels for easily loading the unit into a van or a truck.
---
Product Details
Construction: This series features steel construction with powder coat finish.
Service Range: These variable height units feature a pour height of 1" to 52" and a cradle height of 6" to 58".
Power: Pail Tipper units are operated via a hand cable winch.
Color: Models are powder-coated Beacon Blue with Beacon Yellow accents.
Weight: Units are either 134 or 150 lbs.
Capacity: 125 or 200 lbs.
Options: The Pail Tipper BLLW-PAILD-100 in the above photo is shown with the BMPD-5 pail dolly.
Surcharge: Tariffs or surcharges may apply to current published pricing.
---
Pail Tipper - BLLW-PAILD Series

Model#
Pour Height Lowered / Raised
Cradle Height Lowered / Raised
Rotation Method
Capacity (LBS)
Price
1) BLLW-PAILD-100
1" to 52"
6" to 58"
Hand
100
$1,013.26
2) BLLW-PAILD-200
1" to 52"
6" to 58"
Hand
200
$847.72
PROP 65 WARNING
Products on this page may lead to cancer or reproductive harm.
TM
Call Beacon:
800 454-7159