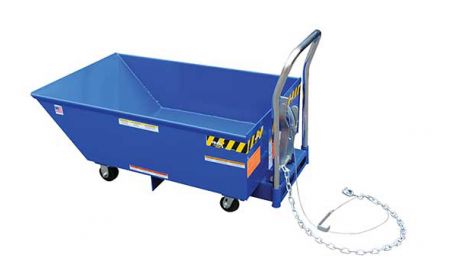 Beacon

®

BHOP-LP Series

The Low Profile Hopper - Parts Hopper feature a low profile, allowing them to be placed underneath machinery to be used as catch basins for parts. The BHOP-LP series is dumped with the assistance of a fork truck. The unit features fork pockets for 90-degree dumping. These low-profile units help reduce hazards and inconveniences associated with collected parts off the floor. The BSLPT series features a removable handle that may be used at either end and also has a tapered side for quick loading and unloading of waste, chips, and scraps in work areas.

See chart below and click a model number
---
Product Details
Construction: Constructed of heavy duty steel. The BHOP-LP series features 10 gauge steel construction, and the BSLPT features 14 gauge steel construction.
Size: Each unit features a removable push handle, either 34" or 37" high. The height of the BSLPT without handle is 22". The BHOP-LP is 18" high without the handle.
Overall Fork Width: The fork pocket width is 7" and height is 2" on the BHOP-LP series. The BHOP-LP-N features a fork pocket center a 7-3/4" while the BHOP-LP has a fork pocket center of 21-5/8"
Color: Units are powder-coated Beacon blue.
Weight: Models weigh between 100 and 384 lbs.
Note: All standard and special hoppers are stitch welded. Special continuous welds for liquid tight available at additional charge.
Operation: The BHOP-LP series will return to the locked position when the material is dumped and when it is lowered to the ground.
Capacity: This series has a capacity of 1, 000 or 2,000 lbs. and a volume capacity of 1/4, 1/2 or 1/3 cubic yards.
Standard: The Low Profile Hopper model BHOP-LP comes standard with 34" removable handle and 2 rigid and 2 swivel 4" x 2" phenolic casters. BSLPT comes with a 37" removable push handle and 2 rigid and 2 swivel 5" x 2" poly-on-steel casters.
Surcharge: Tariffs or surcharges may apply to current published pricing.
---
Low Profile Hopper - BHOP-LP Series

Model No.
Volume (Cubic yards)
Capacity (LBS)
Overall Size (W x D x H)
Usable Size (W x D x H)
Price
1) BHOP-LP-N
1 / 3
2,000
29-15/16"x57-3/16"x33-1/16"
29½"x49½"x13½"
$861.46
2) BHOP-LP
1 / 2
2,000
48-9/16"x57-3/16"x34"
48"x49"x12"
$1,036.73
3) BSLPT-24
1 / 4
1,000
26¼"x42"x37"
24½"x36"x15¼"
$848.07
4) BSLPT-33
1 / 3
1,000
30¼"x54"x37"
28¼"x48"x15¼"
$950.99
PROP 65 WARNING
Products on this page may lead to cancer or reproductive harm.
TM
Call Beacon:
800-454-7159