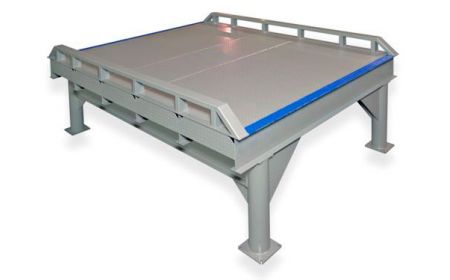 Beacon

®

BMLD Series

The Mobile Loading Dock - Portable Load Platform serves as a loading dock in remote areas for truck trailer and railcar applications. Place in front of railcar for a 90 degree loading and unloading procedure. Ideal for placing in yard for remote 180 degree truck trailer loading and unloading. Available with standard fixed legs or optional adjustable legs. These units are a fast, economical way to expand your dock area and increase freight handling capabilities without the expense of concrete work.
---
Product Details
Construction: Heavy duty steel construction allows for a long lasting unit.
Size: The standard size is all 8 feet wide with lengths ranging from 8', 10', or 12' long. Special sizes are available.
Service Range: All standard models are manufactured with fixed legs. The customer specifies the height of the unit with an maximum allowance of up to 65". Optional adjustable legs allow for a deck elevation range of 44" to 55".
Installation: Units can be easily relocated to other areas of your yard where a free standing loading dock may be needed. This means more trucks and railcars can be loaded and unloaded during peak loading times.
Color: Gray.
Capacities: Several capacities are available ranging from 16,000 lbs to 30,000 lbs. Special capacities are available for special applications.
Options: The optional adjustable legs assist in the Mobile Loading Dock deck height while the optional edge of dock leveler assists in the truck trailer loading and unloading procedure. Optional yard ramps assist in ground loading or unloading.
Surcharge: Tariffs or surcharges may apply to current published pricing.
---
Mobile Loading Dock - BMLD Series

Model#
Capacity (LBS)
Overall Width
Length
Overall Length
Weight (LBS)
Price
1) BMLD16SP88
16,000
8'
8'
88"
2,450
$9,720.44
PROP 65 WARNING
Products on this page may lead to cancer or reproductive harm.


Complementary Products: The Railcar loading ramp works in conjunction with the mobile loading dock portable platform.


TM
Call Beacon:
800 454-7159