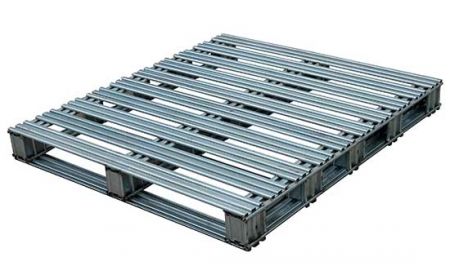 Beacon

®

BSPL Series

The Steel Pallet is rust resistant and made for heavy duty applications. Models are available that allow 4-way entry for both fork and pallet trucks and models that allow 2-way entry for only fork trucks.
---
Product Details
Construction: Heavy duty steel construction with galvanized finish for rust resistance.
Color: Rust resistant galvanized finish.
Weight: Weights range from 43 to 80 lbs.
Capacities: Static floor capacities are 8,000 lbs., dynamic fork capacities are 4,000 lbs., and pallet rack capacities are 2,200 lbs.
Standard: Steel Pallet models BSPL-3636 has 4-way entry and is transportable by pallet and fork trucks. The other three models have 2-way entry and are moveable by fork trucks only.
Surcharge: Tariffs or surcharges may apply to current published pricing.
---
Steel Pallet - BSPL Series

Model#
Static Capacity (LBS)
Dynamic Capacity (LBS)
Racking (LBS)
Overall Size (W x D x H)
Pallet Weight (LBS)
Price
1) BSPL-4248
8,000
4,000
2,200
42"x48"x4¾"
69
$174.58
2) BSPL-4848
8,000
4,000
2,200
48"x48"x4¾"
80
$198.62
3) BSPL-3636
8,000
4,000
2,200
36"x36"x4¾"
43
$125.58
4) BSPL-4048
8,000
4,000
2,200
40"x48"x4¾"
66
$166.22
PROP 65 WARNING
Products on this page may lead to cancer or reproductive harm.
TM
Call Beacon:
800 454-7159