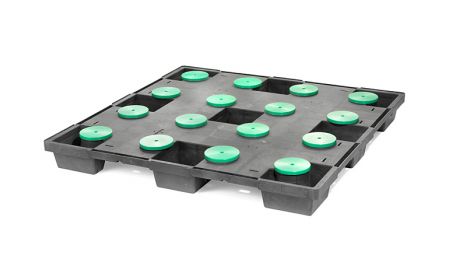 Beacon

®

B630ADRUM Series

The Drum Pallet is designed for storage and transport of drums. They have a stabilizing optional disc system for bottom of the drum during storage. Each unit is designed with a low profile and is safe and easy to handle.
---
Product Details
Construction: This series meets the high production standard for ISO 9001:2000. Units are tested regularly in accordance with relevant elements of the standard ISO 8611.
Color: Black
Weight: This series is 50% lighter than wooden pallets, making them easier to handle and resulting in lower shipping costs.
Note: Special pricing 53' full truck load capacity: 504 Pallets.
Operation: The B630ADRUM series is utilized for storage and transport of liquids in the chemistry, paste manufacturing, fruit juice concentrates, gelatin, oils, and agriculture industries.
Standard: This series is resistant to insects, bacteria, and fungi; impervious to acids, fats, and solvents; and neutral to odors and tastes. These units contain a supplement to protect against UV-radiation and do not absorb water.
Options: Stabilizing 16 piece Disc System kit. These Drum Pallet models are classified four (4) way entry: Environmentally friendly product of 100% completely recycled plastic ACM material. No sirex treatment required.
Surcharge: Tariffs or surcharges may apply to current published pricing.
---
Drum Pallet - B630ADRUM Series

Model#
Material
Size (W x L x H)
Static Capacity
Dynamic Capacity
Racking
Price
1) B630ADRUM
ACM, Recycled Plastic
48"x48"x4.9"
8,800 lbs
1,700 -2,600 lbs
Non Rackable
$76.74

OPTION

Model#
Description
Price
2) B630DRUM-INSERT
Drum Pallet Insert Kit, (includes 16 discs for each pallet).
$21.64
PROP 65 WARNING
Products on this page may lead to cancer or reproductive harm.
TM
Call Beacon:
800 454-7159