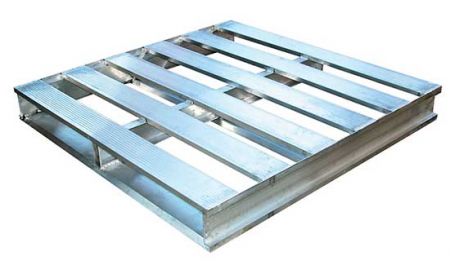 Beacon

®

BAP Series

The Aluminum Pallet is ideal for the food and chemical industry. This series is easy to clean with power washers. Units are durable and reusable, able to withstand high power steam, brushes, or pads. Fork openings make this unit conveniently mobile for two-way fork truck transport.
---
Product Details
Construction: This series features heavy-duty welded aluminum construction for longevity and high resistance against rust.
Size: Models are available in sizes of 40" wide x 48" long x 6" high, 42" wide x 48" long x 6" high, and 48" wide x 48" long x 6" high. Top boards are 4-3/4" wide.
Overall Fork Width: Fork openings are either 19" wide x 4 3/8" high or 22" wide x 4 3/8" high.
Weight: 30, 40, or 50 lbs.
Capacity: 6,000 lbs. of uniform supported capacity, 4,000 lbs. dynamic capacity, and 6,000 lbs. racking capacity.
Standard: A non-skid surface for transportation of all products is standard on the Aluminum Pallet.
Surcharge: Tariffs or surcharges may apply to current published pricing.
---
Aluminum Pallet - BAP Series

Model#
Overall Size (W X D X H)
Floor (Static) Capacity (LBS)
Fork (Dynamic) Capacity (LBS)
Racking Capacity (LBS)
Price
1) BAP-4048
40"x48"x6"
6,000
4,000
6,000
$354.09
2) BAP-4248
42"x48"x6"
6,000
4,000
6,000
$366.22
3) BAP-4848
48"x48"x6"
6,000
4,000
6,000
$392.90
PROP 65 WARNING
Products on this page may lead to cancer or reproductive harm.


Complementary Products: For equipment that both transports and rotates pallets, please see Beacon pallet cart & carousels.


TM
Call Beacon:
800 454-7159