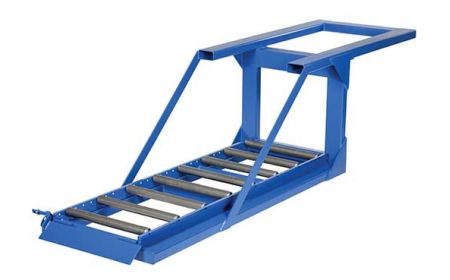 Beacon

®

BDP Series

The cost effective Beacon® Below Dock Loader is a fork truck attachment designed to transport heavy packages from loading docks to trucks. This Low Dock Loading series is designed to increase safety and efficiency during loading and unloading procedures. Each unit features rollers, which greatly reduces time needed for truck loading, and are adjustable to the dock height and adapt to most forklifts.
---
Product Details
Size: Units are 38-1/2" wide x 141" long x 40" high. Fork pockets are 5-1/2" wide x 2-1/2" high. Units service docks of 31" high.
Color: Models are Beacon blue.
Weight: 750 lbs.
Capacity: Units feature a 1,500 lb. capacity.
Standard: Units feature a safety lock standard.
Options: Custom Below Dock Loader designs are available for specific applications; contact Beacon for details.
---
Below Dock Loader - BDP Series

Model#
Overall Size (W x L x H)
Below Dock Service Height
Fork Pockets (W x H)
Capacity (LBS)
Price
1) BDP-3896-15
38½"x141"x40"
31"
5½"x2½"
1,500
$3,565.59