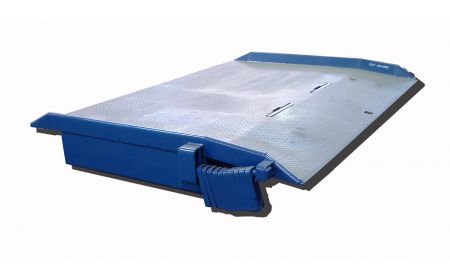 Beacon

®

BRS Series

Beacon® custom designed Rail Dock Plate is made for use on all varieties of railway boxcars, including refrigerated cars and cars designed for use for the paper and lumber industries. All Rail Car Dockboards are designed to match specific dock conditions. The design of each unit is determined by information provided on a worksheet filled out by the buyer. This information enables the model to be constructed with proper bends, capacity, width, and length. These units feature a flared or rectangular design and a box understructure for safety and strength. The series also has a heavy-duty drop ring for safe, secure positioning.
---
Product Details
Construction: Features all-welded steel construction.
Size: Rail Dock Plate models come in a variety of widths ranging from 60" to 100" and lengths ranging from 36" to 96".
Capacities: The units are available with service capacities of 15,000, 22,000, 40,000 and 60,000 lbs.
Standard: Most common standard rail car bed heights are 41" to 46", preferred dock height is 44". The older rail car bed height is 41". Refrigerated rail car heights vary from 46" to 52", preferred dock height is 49".
Options: Sub frames are available to bolt Rail Dock Plate to low docks.
---
Rail Dock Plate - BRS Series

Model#
Capacity
Width
Length
Price
1) B15R6036
15,000 lbs
60"
36"
$2,132.19
2) B15R6048
15,000 lbs
60"
48"
$2,338.89
3) B15R6060
15,000 lbs
60"
60"
$2,544.00
4) B15R6072
15,000 lbs
60"
72"
$2,749.11
5) B15R6084
15,000 lbs
60"
84"
$3,141.84
6) B15R6096
15,000 lbs
60"
96"
$3,346.95
7) B15R7236
15,000 lbs
72"
36"
$2,291.19
8) B15R7248
15,000 lbs
72"
48"
$2,497.89
9) B15R7260
15,000 lbs
72"
60"
$2,703.00
10) B15R7272
15,000 lbs
72"
72"
$2,906.52
11) B15R7284
15,000 lbs
72"
84"
$3,300.84
12) B15R7296
15,000 lbs
72"
96"
$3,505.95
13) B15R8436
15,000 lbs
84"
36"
$2,365.92
14) B15R8448
15,000 lbs
84"
48"
$2,591.70
15) B15R8460
15,000 lbs
84"
60"
$2,819.07
16) B15R8472
15,000 lbs
84"
72"
$3,044.85
17) B15R8484
15,000 lbs
84"
84"
$3,458.25
18) B15R8496
15,000 lbs
84"
96"
$3,684.03
19) B15R9636
15,000 lbs
96"
36"
$2,427.93
20) B15R9648
15,000 lbs
96"
48"
$2,698.23
21) B15R9660
15,000 lbs
96"
60"
$2,970.12
22) B15R9672
15,000 lbs
96"
72"
$3,240.42
23) B15R9684
15,000 lbs
96"
84"
$3,699.93
24) B15R9696
15,000 lbs
96"
96"
$3,971.82
25) B15R10036
15,000 lbs
100"
36"
$2,547.18
26) B15R10048
15,000 lbs
100"
48"
$2,815.89
27) B15R10060
15,000 lbs
100"
60"
$3,087.78
28) B15R10072
15,000 lbs
100"
72"
$3,358.08
29) B15R10084
15,000 lbs
100"
84"
$3,817.59
30) B15R10096
15,000 lbs
100"
96"
$4,091.07
31) B22R6036
22,000 lbs
60"
36"
$2,213.28
32) B22R6048
22,000 lbs
60"
48"
$2,445.42
33) B22R6060
22,000 lbs
60"
60"
$2,677.56
34) B22R6072
22,000 lbs
60"
72"
$2,909.70
35) B22R6084
22,000 lbs
60"
84"
$3,329.46
36) B22R6096
22,000 lbs
60"
96"
$3,561.60
37) B22R7236
22,000 lbs
72"
36"
$2,372.28
38) B22R7248
22,000 lbs
72"
48"
$2,604.42
39) B22R7260
22,000 lbs
72"
60"
$2,834.97
40) B22R7272
22,000 lbs
72"
72"
$3,068.70
41) B22R7284
22,000 lbs
72"
84"
$3,488.46
42) B22R7296
22,000 lbs
72"
96"
$3,720.60
43) B22R8436
22,000 lbs
84"
36"
$2,418.39
44) B22R8448
22,000 lbs
84"
48"
$2,674.38
45) B22R8460
22,000 lbs
84"
60"
$2,930.37
46) B22R8472
22,000 lbs
84"
72"
$3,187.95
47) B22R8484
22,000 lbs
84"
84"
$3,598.17
48) B22R8496
22,000 lbs
84"
96"
$3,887.55
49) B22R9636
22,000 lbs
96"
36"
$2,544.00
50) B22R9648
22,000 lbs
96"
48"
$2,854.05
51) B22R9660
22,000 lbs
96"
60"
$3,164.10
52) B22R9672
22,000 lbs
96"
72"
$3,474.15
53) B22R9684
22,000 lbs
96"
84"
$3,971.82
54) B22R9696
22,000 lbs
96"
96"
$4,308.90
55) B22R10036
22,000 lbs
100"
36"
$2,663.25
56) B22R10048
22,000 lbs
100"
48"
$2,971.71
57) B22R10060
22,000 lbs
100"
60"
$3,281.76
58) B22R10072
22,000 lbs
100"
72"
$3,591.81
59) B22R10084
22,000 lbs
100"
84"
$4,091.07
60) B22R10096
22,000 lbs
100"
96"
$4,426.56

Rail Dock Plate - BRS Series (continued)

Model#
Capacity
Width
Length
Price
61) B40R6036
40,000 lbs
60"
36"
$2,373.87
62) B40R6048
40,000 lbs
60"
48"
$2,658.48
63) B40R6060
40,000 lbs
60"
60"
$2,943.09
64) B40R6072
40,000 lbs
60"
72"
$3,229.29
65) B40R6084
40,000 lbs
60"
84"
$3,701.52
66) B40R6096
40,000 lbs
60"
96"
$4,013.16
67) B40R7236
40,000 lbs
72"
36"
$2,532.87
68) B40R7248
40,000 lbs
72"
48"
$2,817.48
69) B40R7260
40,000 lbs
72"
60"
$3,102.09
70) B40R7272
40,000 lbs
72"
72"
$3,388.29
71) B40R7284
40,000 lbs
72"
84"
$3,860.52
72) B40R7296
40,000 lbs
72"
96"
$4,172.16
73) B40R8436
40,000 lbs
84"
36"
$2,623.50
74) B40R8448
40,000 lbs
84"
48"
$2,799.99
75) B40R8460
40,000 lbs
84"
60"
$3,117.99
76) B40R8472
40,000 lbs
84"
72"
$3,434.40
77) B40R8484
40,000 lbs
84"
84"
$3,940.02
78) B40R8496
40,000 lbs
84"
96"
$4,283.46
79) B40R9636
40,000 lbs
96"
36"
$2,895.39
80) B40R9648
40,000 lbs
96"
48"
$3,283.35
81) B40R9660
40,000 lbs
96"
60"
$3,830.31
82) B40R9672
40,000 lbs
96"
72"
$4,084.71
83) B40R9684
40,000 lbs
96"
84"
$4,660.29
84) B40R9696
40,000 lbs
96"
96"
$5,048.25
85) B40R10036
40,000 lbs
100"
36"
$2,935.14
86) B40R10048
40,000 lbs
100"
48"
$3,321.51
87) B40R10060
40,000 lbs
100"
60"
$3,712.65
88) B40R10072
40,000 lbs
100"
72"
$4,126.05
89) B40R10084
40,000 lbs
100"
84"
$4,700.04
90) B40R10096
40,000 lbs
100"
96"
$5,089.59