Dock Leveler for Shipping Containers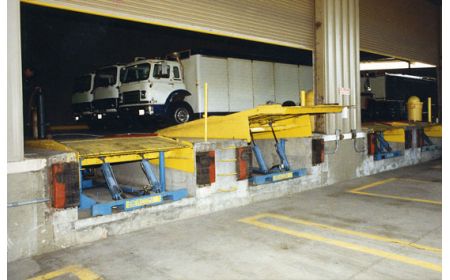 Beacon

®

FC Series

The Beacon® first-rateDock Leveler for Shipping Containers are available in pit leveler and free-standing models. Both models are designed for servicing loading and unloading of shipping containers. Each FC series unit has the unique ability for the deck and lip to extend 44"+ out and over the extended trailer chassis frame and into the shipping container.

Call for custom quote for your application
---
Product Details
Models: FC series is the pit mounted design and the FCF is the free standing design that is anchored in front of the loading dock when a pit is not available.
Construction: Sold in Bulk.
Projection: The projections includes a 44-1/2" reach.
Service Range: The FC and FCF series have a unique service range of 16" up and 4" down.
Electrical: The unit has a 2 or a 5 hp motor, 208/240/440 V AC, 3 Ph, 60 Hz.
Powered: Motor, hydraulic pump, and reservoir are standard.
Color: Durable polyurethane enamel paint is used on all parts of the Dock Leveler for Shipping Containers unit. The platform, toeguards, and major moving parts are Beacon yellow and the frame is Beacon blue.
Scope: The Beacon FC and FCF series are designed for dock servicing incoming or outgoing refrigerated or non-refrigerated containers transported on trailer undercarriages. These units are designed to extend out toward the container.
Note: Size and movements are nominal dimensions.
Operation: The FC series is designed with two vertical hydraulic cylinders to control the up and down movement and one hydraulic cylinder that controls the vertical slide deck lip movement.
Capacity: The capacity of the FC and FCF series is 20,000 lbs dynamic rated.
Standard: Dock Leveler for Shipping Containers have a 44-1/2" continuous slide deck lip, full range toe guards, and two dock bumpers.
Warranty: Dock Leveler for Shipping Containers include a five year structural, 3 year hydraulics, and 1 year electrical limited warranty. Extended warranties available.
---
Dock Leveler for Shipping Containers - Pit Mounted - FC Series

Model#
Capacity
Deck & Lip Extension
Width
Height
Length
Price
1) FC612-20
20,000 lbs.
44½"
72"
32"
12'
$Call

Dock Leveler for Shipping Containers - Free Standing - FCF Series

Model#
Capacity
Deck & Lip Extension
Width
Height
Length
Price
2) FCF612-20
20,000 lbs.
44½"
72"
48"
12'
$Call