Industrial Trash Can Dumper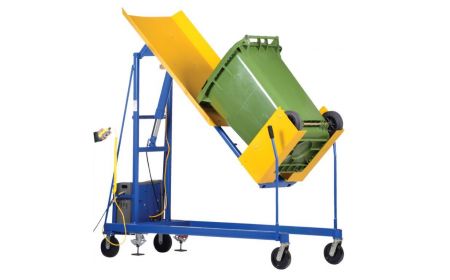 Beacon

®

BTCD-U Series

The transportable Industrial Trash Can Dumper allows one person to quickly dump heavy trash cans with ease. Units feature two rigid and two swivel 8" x 2" casters for portability. The square-shaped chute with arms can hold most trash cans in place for dumping. This unit is available with manual foot pump, AC, or DC power.
---
Product Details
Construction: This series features long-lasting, heavy-duty steel construction.
Size: Units are 43-3/4" wide x 75" long x 64-1/16" high, 46" wide x 74" long x 79" high, 48" wide x 74" long x 78" high, or 45" wide x 74" long x 65" high.
Dump Heights: Units have maximum dump heights of 48", 60", or 72" and maximum dump angles of 135 degrees. The overall rotated height is 117-1/16" and the maximum rotated angle is 45 degrees.
Overall Width: The chute is 37" wide x 35-13/16" deep.
Powered: Manual foot pump, 110V AC power or 12V DC power.
Color: Models feature a Beacon yellow chute and a Beacon blue frame. Trash cans are available in Beacon blue, green, or grey.
Weight: Units weigh between 671 and 1,099 lbs.
Note: This unit ships fully assembled and ready to use.
Operation: This is a universal unit capable of accepting any trash can (even round or oddly shaped cans) as long as they are within 17-1/2" to 35" wide, 20-1/2" to 35" long, and 22" to 47" high. It works will all options listed below.
Capacity: All models feature a 400-lb. capacity.
Standard: DC-powered units feature an on-board battery charger. All units feature 2 adjustable floor locks for added safety while dumping.
Options: Industrial Trash Can Dumper options include a remote battery charger, a battery charge indicator gauge, and heavy duty polyethylene trash cans in various sizes, volumes, and colors. BTH trash cans have a hinged lid.
---
Industrial Trash Can Dumper - BTCD-U Series

Model#
Operation
Max. Dump Angle
Max. Dump Height
Capacity (LBS)
Price
1) BTCD-U-48-M
Manual Foot Pump
135
48"
400
$3,204.43
2) BTCD-U-48-AC
AC
135
48"
400
$4,524.20
3) BTCD-U-48-DC
DC
135
48"
400
$4,524.20
4) BTCD-U-60-M
Manual Foot Pump
135
60"
400
$3,640.06
5) BTCD-U-60-AC
AC
135
60"
400
$4,966.60
6) BTCD-U-60-DC
DC
135
60"
400
$4,966.60
7) BTCD-U-72-M
Manual Foot Pump
135
72"
400
$3,782.00
8) BTCD-U-72-AC
AC
135
72"
400
$5,109.62
9) BTCD-U-72-DC
DC
135
72"
400
$5,109.62

OPTION

Model#
Description
Price
10) BBC
Remote Battery Charger
$169.77
11) BBCI
Battery Charge Indicator Gauge
$106.45

OPTION - Trash Can

Model#
Volume (Gallons)
Color
Overall Size (W x D x H)
Wheel Type & Size
Price
12) BTH-32-BLU
32
Blue
22"x22"x37"
7¾"x1" Rubber
$85.56
13) BTH-32-GRN
32
Green
22"x22"x37"
7¾"x1" Rubber
$85.56
14) BTH-32-GY
32
Grey
22"x22"x37"
7¾"x1" Rubber
$85.56

OPTION - Trash Can (continued)

Model#
Volume (Gallons)
Color
Overall Size (W x D x H)
Wheel Type & Size
Price
15) BTH-64-BLU
64
Blue
23½"x29¼"x39¾"
7¾"x1" Rubber
$114.64
16) BTH-64-GRN
64
Green
23½"x29¼"x39¾"
7¾"x1" Rubber
$114.64
17) BTH-64-GY
64
Grey
23½"x29¼"x39¾"
7¾"x1" Rubber
$114.64
18) BTH-95-BLU
95
Blue
28¼"x34"x44½"
7¾"x1" Rubber
$159.40
19) BTH-95-GRN
95
Green
28¼"x34"x44½"
7¾"x1" Rubber
$159.40
20) BTH-95-GY
95
Grey
28¼"x34"x44½"
7¾"x1" Rubber
$159.40

OPTION - Trash Can with Lid Lifter

Model#
Volume (Gallons)
Color
Overall Size (W x D x H)
Wheel Type & Size
Price
21) BTH-32-BLU-FL
32
Blue
18½"x22"x37½"
7¾"x1" Rubber
$156.13
22) BTH-32-GRN-FL
32
Green
18½"x22"x37½"
7¾"x1" Rubber
$156.13
23) BTH-32-GY-FL
32
Grey
18½"x22"x37½"
7¾"x1" Rubber
$156.13
24) BTH-64-BLU-FL
64
Blue
20"x29¼"x40¼"
7¾"x1" Rubber
$195.43
25) BTH-64-GRN-FL
64
Green
20"x29¼"x40¼"
7¾"x1" Rubber
$195.43
26) BTH-64-GY-FL
64
Grey
20"x29¼"x40¼"
7¾"x1" Rubber
$195.43

OPTION - Trash Can with Lid Lifter (continued)

Model#
Volume (Gallons)
Color
Overall Size (W x D x H)
Wheel Type & Size
Price
27) BTH-95-BLU-FL
95
Blue
24¾"x34"x45"
7¾"x1" Rubber
$247.84
28) BTH-95-GRN-FL
95
Green
24¾"x34"x45"
7¾"x1" Rubber
$247.84
29) BTH-95-GY-FL
95
Grey
24¾"x34"x45"
7¾"x1" Rubber
$247.84