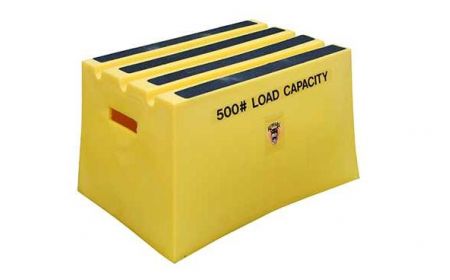 Beacon

®

BVST Series

The Personalized Step Stool - Plastic Steps are portable, lightweight steps that allow employees to gain access to hard-to-reach items. This series is available in one-, two-, three-, or four-step configurations. The two-, three-, and four-step models feature rear storage compartments. These units have hand holes that enable a more firm grasp when transporting them. All units feature a non-skid tape surface for added safety and rubber feet for increased adherence to the floor. Four-step units have rear wheels that allow one person to tilt-and-roll the unit into position.

See chart below and click a model number
---
Product Details
Construction: Units are constructed from polyethylene.
Size: Units have base sizes ranging from 18" wide to 12" deep, up to 45" wide x 25" deep. The different model top steps range from 18" wide to 12" deep and up to 17" wide to 12" deep.
Service Range: Overall height of the different models are 12', 20" 29" or 69-1/2".
Color: Models are available in Beacon yellow for a safety visual aid.
Weight: Models weigh from 10 to 53 lbs.
Capacity: The Beacon Personalized Step Stool has a capacity of 500 lbs.
Surcharge: Tariffs or surcharges may apply to current published pricing.
---
Personalized Step Stool - BVST Series

Model No.
Color
Construction
Base Size (W x D)
Overall Height
Top Step (W x D)
Capacity (LBS)
Ships Via
Price
1) BVST-1-Y
Yellow
Polyethylene
18"x12"
12"
18"x12"
500
UPS
$95.02
2) BVST-2-Y
Yellow
Polyethylene
22"x21"
20"
17¾"x11¾"
500
UPS
$151.23
3) BVST-3-Y
Yellow
Polyethylene
22"x32"
29"
17"x11½"
500
Truck
$231.25
4) BVST-4-Y
Yellow
Polyethylene
45"x25"
69½"
17"x12"
500
Truck
$489.86
PROP 65 WARNING
Products on this page may lead to cancer or reproductive harm.
TM
Call Beacon:
800-454-7159