Additional A Frame Hoist
(50 Models)
BAHS-6-15-9 A Frame Hoist
Bear Claw

®

BAHS Series

Model Number:

BAHS-6-15-9



Capacity (LBS): 6,000
Beam Length: 15'
Beam Height: 10"
Under I-Beam Range: 6'-1" to 9'-1"
Base Width: 60-½"
Flange Width: 4"

Shipping Weight (LBS): 1092
Shipping Class: 70

Additional Notes: * Deduct 12" for distance between upright; (4) 8" 4-position Swivel Lock Phenolic Casters Standard; Adjustable in 6" Increments. * Hoist & Trolley sold separately*. *Assembly by others*.
Category: A Frame Hoist



Product Info PDF: BFHS-BAHS-Tech-Sheet.pdf
Owners Manual PDF: BAHS-Owners-Manual.pdf

$4,427.68 each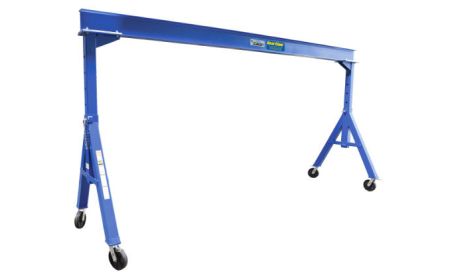 Bear Claw

®

BAHS Series

Model Number:
BAHS-6-15-9
Capacity (LBS): 6,000
Beam Length: 15'
Beam Height: 10"
Under I-Beam Range: 6'-1" to 9'-1"
Base Width: 60-½"
Flange Width: 4"
Shipping Weight (LBS): 1092
Shipping Class: 70
Additional Notes:
* Deduct 12" for distance between upright; (4) 8" 4-position Swivel Lock Phenolic Casters Standard; Adjustable in 6" Increments. * Hoist & Trolley sold separately*. *Assembly by others*.
Category:
A Frame Hoist
Product Info PDF: BFHS-BAHS-Tech-Sheet.pdf
Owners Manual PDF: BAHS-Owners-Manual.pdf

It is the customer's responsibility to verify BAHS-6-15-9 correctness of fit for applications. It is the customer's responsibility to verify that this Bear Claw® A Frame Hoist - BAHS Series complies with all safety laws, codes and regulations.
Complementary Products:
For additional highly efficient industrial lifting devices, please see Beacon manual chain hoists.
PROP 65 WARNING
Products on this page may lead to cancer or reproductive harm.
Tariffs or surcharges may apply to current published pricing.
TM
Call Beacon:
314-487-7600