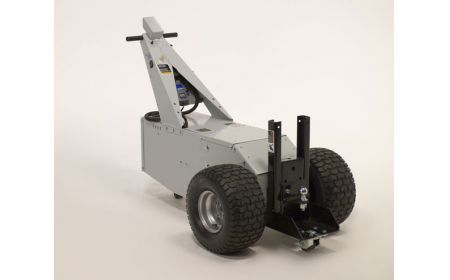 Beacon

®

BPMM Series

The Electric Trailer Dolly - Electric Trailer Mover is compact and highly maneuverable, enabling excellent turning in tight spaces. The ergonomical design provides simple control and superb stability. This unit features variable speed control, providing smooth acceleration, generous low speed torque, and precision maneuverability. Models BPMM-3000 and BPMM-3000-15 have robust hydraulics, ensuring excellent push or pull traction.
---
Product Details
Size: The series is available in three sizes: 38" wide x 53" long x 38" high, 36" wide x 78" long x 43" high, and 36" wide x 96" long x 43" high. The unit has a tire size of 9-1/2" x 18".
Electrical: The unit's standard marine-style battery has a 210 minimum @ 25 amp draw. The battery features a 7-hour charge and holds 25 to 30 amps when fully loaded and 8 to 10 amps when empty. The unit has a built-in battery charger for rapid recovery.
Powered: All models feature a 2-Hp, continuous duty 24V DC motor that enables quiet, smooth operation.
Power: The BPMM-1000 and BPMM-3000 models have a maximum speed of 1.6 mph and approximately 1,000 lbs. for the speed/torque package.
Weight: 595 to 2,150 lbs.
Note: When 2 units are being used to push and pull the payload, the operators must work together and raise the lift to add traction, this will reduce tire spin on a smooth surface.
Capacities: The series is available with maximum pull weights of 12,000 or 40,000 lbs. The models have various tongue-weight load from lifts: either 1,000 (BPMM-1000) or 3,000 lbs. (BPMM-3000) or 3,000 lbs with 1,500 lbs. front lift with the lift option (BPMM-3000-15).
Standard: The hydraulic lift comes standard on models BPMM-3000 and BPMM-300-15 and features an adjustable height from 9" to 29". Units feature 3-point mounting configurations for an adjustable service range.
Options: Electric Trailer Dolly model BPMM-1000 is available with a hydraulic lift option, adjustable 9" to 26". A variety of hitch attachments are available, along with other options. Call Beacon for details.
---
Electric Trailer Dolly - BPMM Series

Model#
Overall Size (W x L x H)
Tongue-Weight Load From Lift (LBS)
Max. Pull Weight (LBS)
Price
1) BPMM-1000
38"x53"x38"
1,000
12,000
$7,784.53
2) BPMM-3000
36"x78"x43"
3,000
40,000
$15,355.08
3) BPMM-3000-15
36"x96"x43"
3,000 / 1,500
40,000
$17,701.35

OPTION

Model#
Description
Price
4) BPMM-HYD-LIFT
Hydraulic Lift Option, Adjustable from 9" to 26"
$2,134.47


Complementary Products: To efficiently move heavy pallets without using a fork truck, please see Beacon economy pallet trucks.