Stainless Steel Tote Lifter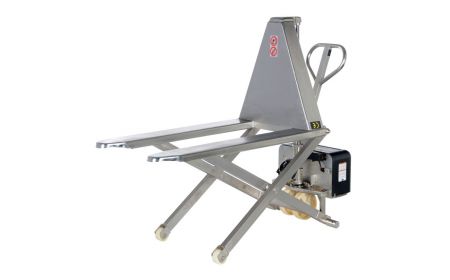 Beacon

®

BL-270 series

This Stainless Steel Tote Lifter is designed to lift open bottom skids and boxes. This unit is constructed in stainless steel with Nylon wheels. Choose between a hand pump unit or a 12V DC unit.
---
Product Details
Construction: Features a stainless steel construction with nylon wheels.
Size: Overall fork sizes measure 26-3/4" wide x 45" long.
Service Range: Model has a service range of 3-1/2" to 31-1/2" for ergonomic lifting.
Powered: DC unit includes on-board battery charger.
Note: Stainless Steel Tote Lifter may not be suitable for wash down applications.
Usage: Designed to lift open bottom skids, boxes, and baskets.
Operation: Operation: The BL-270-HD-SS includes a hand pump design that features an ergonomic pump handle with two lifting speeds to accommodate light or heavy loads. The BL-2700DC-HD-SS features a 12V DC battery and on-board charger.
Capacity: Uniform capacity is 2,000 lbs.
Standard: Side stabilizers lock lift in place when load is raised above 20-1/2".
Surcharge: Tariffs or surcharges may apply to current published pricing.

WARNING This product can expose you to lead, which is known to the State of California to cause cancer and birth defects or other reproductive harm.
---
Stainless Steel Tote Lifter - BL-270 series

Model#
Capacity (lbs.)
Fork Size (W x L)
Service Range
Operation
Price
1) BL-270-HD-SS
2,000
26¾"x45"
3½" to 31½"
Hand Pump
$5,070.78
2) BL-270-DC-HD-SS
2,000
26¾"x45"
3½" to 31½"
12V DC
$6,816.60
PROP 65 WARNING
Products on this page may lead to cancer or reproductive harm.
TM
Call Beacon:
800 454-7159