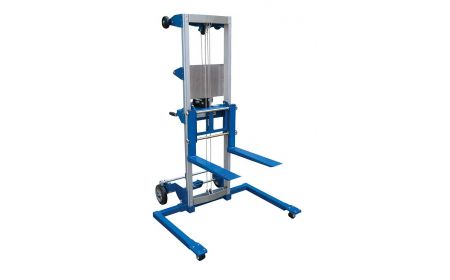 Beacon

®

BA-LIFT-S Series

The Pallet Cart - Manual Lift Pallet Jack features a hand-crank winch with a reversible handle and hold down device for securing the carriage during transport. This unit with straddle design is designated for use with open bottom skids only. The forks can be inverted to provide two different heights. These units, complete with a compact design, can be used for lifting objects to and from shelves, moving office equipment, and installing ceiling or wall appliances.
---
Product Details
Construction: This unit is constructed of durable steel and aluminum.
Size: The overall size is 29" wide x 43" long x 68" or 79" high.
Service Range: Units have a service range of 1-1/4" to 21-1/4".
Raised Fork Height: The raised fork height is 67", 117", or 142". Inverted fork heights are 47", 97", or 118"..
Overall Fork Width: The 4" wide, 1-3/4" thick steel forks are 20-1/2" wide overall.
Overall Fork Length: Units have forks 22" long.
Color: Models feature Beacon blue components with steel and aluminum finish.
Weight: 140, 145, or 154 lbs.
Operation: This series is push and winch operated for lifting and lowering. The forks raise 1" for every crank rotation.
Capacities: Available in capacities of 350, 400, and 500 lbs.
Standard: These Beacon models come standard with two 8" non-marking rear wheels and two 2" front swivel casters.
Options: The Pallet Cart has an optional ladder available measuring 20-1/2" wide x 57-1/2" high x 3" deep or 20-5/8" wide x 69-1/2" high x 3" deep. Other options include a deck platform and 10" pneumatic rear wheels.
Surcharge: Tariffs or surcharges may apply to current published pricing.
---
Pallet Cart - BA-LIFT-S Series

Model#
Capacity
Lowered Height
Raised Height
Overall Size (W x L x H)
Price
1) BA-LIFT-S
500
1¼"
47" / 67"
29"x43"x68"
$953.27
2) BA-LIFT-S-HP
400
1¼"
97" / 117"
29"x43"x68"
$1,062.49
3) BA-LIFT-S-EHP
350
1¼"
118" / 142"
29"x43"x79"
$1,131.98

OPTION

Model#
Description
Use With
Color
Construction
Price
4) BA-LIFT-LAD
Optional Truck Ladder
BA-LIFT-S and BA-LIFT-S-HP
Blue
Steel/Aluminum
$336.46
5) BA-LIFT-EHP-LAD
Optional Truck Ladder
BA-LIFT-S-EHP
Blue
Steel/Aluminum
$336.46
Model#
Description
Size
Price
6) BA-LIFT-DK
Deck Platform
20½" Wx24¼" L
$115.97
7) BA-LIFT-PN
Pneumatic Rear Wheels
10" diameter
$68.23
PROP 65 WARNING
Products on this page may lead to cancer or reproductive harm.
TM
Call Beacon:
800 454-7159