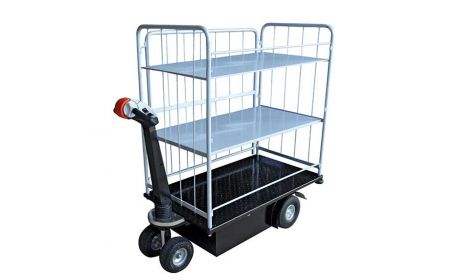 Beacon

®

BNE Series

The Battery Powered Cart is designed to transport materials while placing virtually no physical exertion on the operator. This series is ideal for use in areas such as hospitals, grocery stores, warehouses, hotels, and mail rooms. Units have non-marking, foam-filled wheels. Units with one, two, or three shelves are available. Units (except BNE-CART-1) also come with railings and gates. Railings are 12" on BNE-CART-2, 40" on BNE-CART-3, and 59-3/4" for BNE-CART-4. Walking speed when loaded is 0 to 2.5 MPH and is 0 to 2.8 MPH when unloaded. Turning radius is 23-5/8".
---
Product Details
Construction: Units feature steel construction and shelves with non-slip treadplate surface.
Size: Models have deck sizes ranging in width from 24-3/4" to 28" and in length from 46" to 48". Bottom shelves are 14" high, second shelves are 33" high, and third shelves are 49-3/4". Handle is 44-11/16" high. Maximum incline is 7 degrees.
Power: Models feature a 500 Watt motor and two 24V, 95 Ah batteries. Units may be used for 3 to 4 hours at full charge and 8 hours at full charge if used intermittently.
Weight: Units weigh between 450 and 490 lbs.
Operation: The variable-speed throttle located on the handle allows the unit to be moved and positioned precisely without worker strain. The ergonomic handle moves back toward the operator and includes auto brake, emergency stop, and horn.
Capacity: Models feature a total capacity of either 750 or 500 lbs., a second shelf capacity of 250 or 200 lbs, and 3-shelf models have a top shelf capacity of 150 lbs.
Standard: On-board 24V, 6A charger and battery level gauge standard. The Battery Powered Cart steering wheels are 9" x 3-1/8" and drive wheels are 10-1/4" x 3-1/8".
---
Battery Powered Cart - BNE Series

Model#
Deck Size (W x L)
Shelf Height
Total Capacity (LBS)
Second Shelf Capacity (LBS)
Third Shelf Capacity (LBS)
Shelves
Fast Travel Speed (Loaded)
Fast Travel Speed (Unloaded)
Slow Travel Speed (Loaded)
Slow Travel Speed (Unloaded)
Price
1) BNE-CART-4
24¾"x46"
14", 33", 49¾"
500
200
150
3
2.5 MPH
2.8 MPH
1.3 MPH
1.5 MPH
$3,017.74
2) BNE-CART-3
24¾"x46"
14", 33"
500
250
-
2
2.5 MPH
2.8 MPH
1.3 MPH
1.5 MPH
$2,867.07
3) BNE-CART-2
24¾"x46"
14"
750
-
-
1
2.5 MPH
2.8 MPH
1.3 MPH
1.5 MPH
$2,721.86
4) BNE-CART-1
28"x48"
14"
750
-
-
1
2.5 MPH
2.8 MPH
1.3 MPH
1.5 MPH
$2,503.50