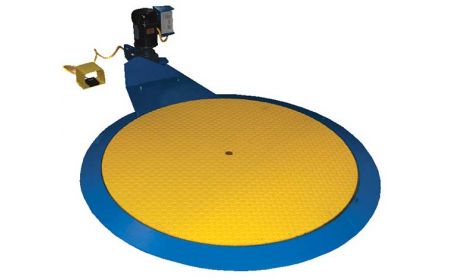 Beacon

®

BPOW-CAR-LP Series

Pallet Turntable measures just 1" in height, making it accessible to pallet trucks. Model BPOW-CAR-LP is a low-profile Carousel Wrapper unit that allows 300 degree pallet truck access and does not require the optional ramp for pallet jack use.
---
Product Details
Electrical: The series features 115V AC power, single phase, 3/4 HP motor.
Color: Models are powder coated Beacon blue and yellow.
Weight: 450 lbs.
Operation: Variable speed foot control with an 8' power cord is standard. Units feature cushion start and stop.
Capacity: The low profile series has a capacity of 4,000 lbs.
Options: An optional approach ramp, measuring 48" wide x 36" long or 48" long, is available for the Pallet Turntable. A manual air bearing ramp also is available.
---
Pallet Turntable - BPOW-CAR-LP Series

Model#
Capacity (LBS)
Height
R.P.M
Voltage
Operation
Overall Size (W x L x H)
Platform Diameter
Price
1) BPOW-CAR-LP
4,000
1"
3-12
115V AC
Foot Control
59½"x87-7/8"x14-13/16"
51"
$5,172.95

OPTION

Model#
Description
Size (W x L x H)
Price
2) BSWA-R-4836
Approach Ramp for Pallet Trucks
48"x36"x2¼"
$446.55
3) BSWA-R-4848
Approach Ramp for Pallet Trucks
48"x48"x2¼"
$589.57