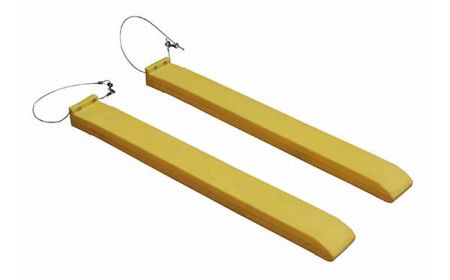 Beacon

®

BF4 Series

The Fork Blade Protectors function in two ways: to cover unsightly fork scratches and scrapes while protecting valuable products, boxes, and skids from sharp fork edges.
---
Product Details
Construction: Units feature all-polyethylene construction.
Size: The forkblade protectors are 4-1/2" wide with lengths of 36", 42", 48" & 60" long. These units accommodate forks that are 4" wide and up to 2" thick.
Color: Models are Beacon yellow for visual safety.
Weight: Unit weight per pair are BF4-36 at 6 lbs, BF4-42 at 7 lbs, BF4-48 at 8 lbs & BF4-60 at 10 lbs.
Standard: Fork Blade Protectors units are easy to slide over existing forks and are held in place with an included steel cable.
Surcharge: Tariffs or surcharges may apply to current published pricing.

WARNING This product can expose you to lead, which is known to the State of California to cause cancer and birth defects or other reproductive harm.
---
Fork Blade Protectors - BF4 Series

Model#
Width
Length
Accommodates Fork Width
Max. Fork Thickness
Color
Price Quantity
Price
1) BF4-36
4½"
36"
4"
2"
Yellow
Pair
$142.26
2) BF4-42
4½"
42"
4"
2"
Yellow
Pair
$148.30
3) BF4-48
4½"
48"
4"
2"
Yellow
Pair
$154.53
4) BF4-60
4½"
60"
4"
2"
Yellow
Pair
$160.76
PROP 65 WARNING
Products on this page may lead to cancer or reproductive harm.
TM
Call Beacon:
800 454-7159