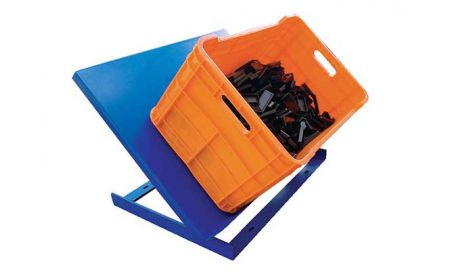 Beacon

®

BBTT Series

These manual or linear actuated Bench Top Tilters attach to most work benches, table tops, and mobile lift tables of sufficient surface size and load capacity. Manual Parts Tilter units are best for applications where tilt angle only needs to be adjusted occasionally and can be adjusted only when unloaded. The user manually tilts the deck up and places a rod to achieve the appropriate angle. Each linear actuated tilter has a push button hand pendant control that is situated on an 8-ft. cord. Linear actuated models are better suited for applications where frequent readjustment is necessary and when precision is required.
---
Product Details
Construction: The units are constructed of heavy-duty steel.
Size: The unit is available in a variety of platform sizes, with the BBTT-6-36 model measuring 28" wide x 36" long x 2" high, and the BBTT-10-46 model measuring 28" wide x 46" long x 3" high.
Electrical: Linear actuated units use a standard 110V outlet. A linear actuator is a type of motor that uses straight-line motions to create power, rather than the conventional circular motion of most electric motors.
Color: These Bench Top Tilters are painted Beacon Blue, but custom finishes are available.
Weight: The unit comes in a variety of weights ranging from 60 to 106 lbs.
Operation: The manual platform may be tilted either 15, 30, or 45 degrees. The linear actuated models can be adjusted anywhere from 0 to 45 degrees for precise ergonomic positioning. All units feature a flat base with slotted holes for easy installation.
Capacities: The manual BBTT-6-36 and BBTT-6-46 have capacities of 600 lbs.
Capacity: The BBTT-5-36 and BBTT-5-46 have an electro-mechanical internal operating mechanism to lift up to 500 lbs. up to 45 degrees the 5 in. lowered height. BBTT-10-36 and BBTT-10-46 have an external operating mechanism capable of lifting 1,000 lbs. up to 45 degrees from the 5 in. lowered height.
Standard: Bench Top Tilters have a sliding top to tilt within the frame. This keeps the platform center close to the base center, which provides more stability than a hinge-style tilter. The platform features a 3-inch retaining lip.
Surcharge: Tariffs or surcharges may apply to current published pricing.
---
Bench Top Tilters - BBTT Series

Model#
Platform Size (W x L x H)
Capacity (LBS)
Degree of Tilt
Operation
Price
1) BBTT-6-36
28"x36"x2"
600
15, 30, & 45
Manual
$238.28
2) BBTT-6-46
28"x46"x2"
600
15, 30, & 45
Manual
$260.04
3) BBTT-5-36
28"x36"x5"
500
0 to 45
Linear Actuated
$1,606.28
4) BBTT-5-46
28"x46"x5"
500
0 to 45
Linear Actuated
$1,628.29
5) BBTT-10-36
28"x36"x3"
1,000
0 to 45
Linear Actuated
$1,718.72
6) BBTT-10-46
28"x46"x3"
1,000
0 to 45
Linear Actuated
$1,734.98
PROP 65 WARNING
Products on this page may lead to cancer or reproductive harm.
TM
Call Beacon:
800 454-7159