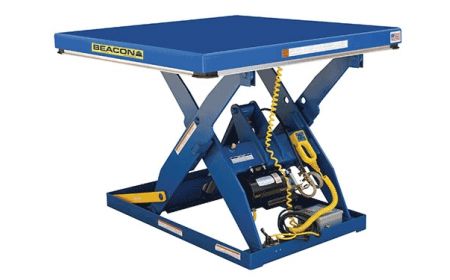 Beacon

®

BEHLT Series

The heavy duty engineering technology Lift Table is designed to raise materials the proper ergonomic height for the worker. These Material Lifts are excellent for many industrial locales including warehouses, distribution centers, and manufacturing facilities. These units have a 3,000 psi hydraulic component rating.
---
Product Details
Construction: High-quality steel construction.
Size: The units have deck widths ranging from 24" up to 72". Actual lengths range from 48" up to 144".
Service Range: The industrial lift table models have lowered heights ranging from 7" to 12" and raised heights ranging from 43" to 82".
Electrical: This unit is supplied with an internal 2 Hp motor, 56 frame, 460V AC, 3 Phase, 60 Hertz is standard. (Optional electrical changes are available including Voltage, Phase, and Hertz at an additional charge).
Installation: Surface or pit mount will end up with different overall heights. The three vertical geometric properties to be aware of is the (1) Lowered height (2) Travel (3) Overall height. When mounting in a pit, your travel will end up as your overall height.
Color: Standard finish is Beacon Blue water-based paint. Options include other water base colors, powder coat, Steel-It Polyurethane Coating, Line-X Polyurea/Polyurethane Coating, and ZRC Cold Galvanized Compound Coating.
Weight: 945 to 2,415 lbs.
Note: All travel times are based on a 3-phase motor.
Operation: One to four hydraulic cylinders control the vertical deck movement. This series features lifetime-lubricated bearings and an integral maintenance prop. Travel times range from 7 to 48 seconds.
Capacities: 1,000 lbs. to 12,000 lbs.
Standard: Standard safety features include electric pinch point protection, internal brass velocity fuse, 24 V AC push-button control, a hinged maintenance prop, and an upper travel limit switch.
Options: Lift Table units are available with an optional foot control. Other options include skirting, a 42" high self-locking gate, a warning light, and a warning beeper. Select any model number to view all optional upgrades.
Warranty: One-year structural, hydraulics, and electrical. To keep the warranty valid you cannot cantilever the geometric ratio weight beyond the center of gravity. All units are quoted the capacity within its deck size and must keep with a uniformly distributed load.
BEHLT - Video

BEHLT - 2 - Video

BACC - Video

BEHLT - 3 - Video
Documents
Options
---
Lift Table - BEHLT Series

Model#
Vertical Travel
Platform Width
Platform Length
Capacity (LBS)
Raised Height
Lowered Height
Travel Time (Sec.)
Note
Price
1) BEHLT-1-43
36"
24"-48"
48"-72"
1,000
43"
7"
7
A
$3,508.01
2) BEHLT-2-43
36"
24"-48"
48"-72"
2,000
43"
7"
11
A
$3,741.78
3) BEHLT-3-43
36"
24"-48"
48"-72"
3,000
43"
7"
16
A
$4,286.47
4) BEHLT-4-43
36"
24"-48"
48"-72"
4,000
43"
7"
22
A
$4,847.66
5) BEHLT-5-44
36"
36"-48"
48"-72"
5,000
44"
8"
32
A
$5,035.63
6) BEHLT-6-44
36"
36"-48"
48"-72"
6,000
44"
8"
32
A
$5,635.39
7) BEHLT-8-44
36"
36"-48"
48"-72"
8,000
44"
8"
15
B
$8,624.58
8) BEHLT-10-43
33"
40"-60"
48"-72"
10,000
43"
10"
15
B
$9,589.65
9) BEHLT-12-43
33"
40"-60"
48"-72"
12,000
43"
10"
15
B
$10,320.03
10) BEHLT-1-55
48"
24"-48"
64"-90"
1,000
55"
7"
11
A
$4,919.21
11) BEHLT-2-55
48"
24"-48"
64"-90"
2,000
55"
7"
16
A
$4,961.56
12) BEHLT-3-55
48"
24"-48"
64"-90"
3,000
55"
7"
22
A
$5,326.75
13) BEHLT-4-56
48"
36"-48"
64"-96"
4,000
56"
8"
32
A
$5,528.58
14) BEHLT-5-56
48"
36"-48"
64"-96"
5,000
56"
8"
32
A
$5,705.80
15) BEHLT-6-56
48"
36"-48"
64"-96"
6,000
56"
8"
48
A
$5,997.15
16) BEHLT-8-56
48"
36"-48"
64"-96"
8,000
56"
8"
15
B
$10,705.02
17) BEHLT-10-55
45"
40"-60"
64"-96"
10,000
55"
10"
15
B
$11,290.93
18) BEHLT-12-55
45"
40"-60"
64"-96"
12,000
55"
10"
20
B
$12,044.67
19) BEHLT-1-67
60"
24"-48"
84"-108"
1,000
67"
7"
16
A
$6,629.88
20) BEHLT-2-67
60"
24"-48"
84"-108"
2,000
67"
7"
14
A
$6,822.44
21) BEHLT-3-67
60"
24"-48"
84"-108"
3,000
67"
7"
16
A
$7,183.96
22) BEHLT-4-68
60"
48"-72"
96"-120"
4,000
68"
8"
26
B
$8,281.71
23) BEHLT-5-68
60"
48"-72"
96"-120"
5,000
68"
8"
26
B
$9,573.28
24) BEHLT-6-70
60"
48"-72"
96"-120"
6,000
70"
10"
30
B
$10,292.90
25) BEHLT-8-70
60"
62"-72"
96"-120"
8,000
70"
10"
30
B
$12,119.77
26) BEHLT-10-72
60"
62"-72"
96"-120"
10,000
72"
12"
30
B
$13,263.31
27) BEHLT-12-72
60"
62"-72"
96"-120"
12,000
72"
12"
30
B
$13,873.83

Lift Table - BEHLT Series (continued)

Model#
Vertical Travel
Platform Width
Platform Length
Capacity (LBS)
Raised Height
Lowered Height
Travel Time (Sec.)
Note
Price
28) BEHLT-1-79
72"
24"-48"
102"-120"
1,000
79"
7"
12
A
$7,920.18
29) BEHLT-2-79
72"
24"-48"
102"-120"
2,000
79"
7"
16
A
$8,494.30
30) BEHLT-3-82
71"
48"-72"
120"-144"
3,000
82"
11"
16
B
$9,305.62
31) BEHLT-4-82
71"
48"-72"
120"-144"
4,000
82"
11"
26
B
$9,380.61
32) BEHLT-5-82
71"
48"-72"
120"-144"
5,000
82"
11"
26
B
$10,956.31
33) BEHLT-6-82
70"
62"-72"
120"-144"
6,000
82"
12"
30
B
$12,030.47
34) BEHLT-8-82
70"
62"-72"
120"-144"
8,000
82"
12"
30
B
$13,448.77
Notes:
A: Other sizes are available; Call Beacon for details
B: Externally mounted, 6.5 HP 208-230/460V 3-Phase Motor


Lift Table - BEHLT Series - QUICK SHIP

Model#
Vertical Travel
Platform Width
Platform Length
Capacity (LBS)
Raised Height
Lowered Height
Travel Time (Sec.)
Note
Price
35) BEHLT-2448-3-43-QS
36"
24"
48"
3,000
43"
7"
16
$3,519.80
36) BEHLT-3060-3-43-QS
36"
30"
60"
3,000
43"
7"
16
$3,519.80
37) BEHLT-4048-3-43-QS
36"
40"
48"
3,000
43"
7"
16
$3,519.80
38) BEHLT-4848-3-43-QS
36"
48"
48"
3,000
43"
7"
16
$3,519.80
39) BEHLT-4872-3-43-QS
36"
48"
72"
3,000
43"
7"
16
$3,916.70
40) BEHLT-3060-4-43-QS
36"
30"
60"
4,000
43"
7"
22
$4,459.11
41) BEHLT-4048-4-43-QS
36"
40"
48"
4,000
43"
7"
22
$4,459.11
42) BEHLT-4848-4-43-QS
36"
48"
48"
4,000
43"
7"
22
$4,459.11
43) BEHLT-4872-4-43-QS
36"
48"
72"
4,000
43"
7"
22
$4,847.66
Notes:
A: Other sizes are available; Call Beacon for details
B: Externally mounted, 6.5 HP 208-230/460V 3-Phase Motor

---