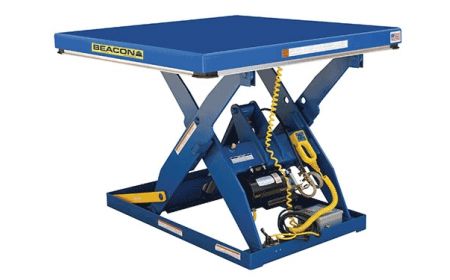 Beacon

®

BEHLTS Series

This production Hydraulic Scissor Lift technology is designed to lift items to proper ergonomic working height, reducing worker fatigue as well as the risk of repetitive-motion injuries. Utilized as a Compact Lift, ready for work in tight spaces. These models are available in a single-leg style. This series has an emergency internal brass velocity fuse and a full perimeter pinch point guard.
---
Product Details
Construction: These units feature all steel construction.
Size: This series comes in platform widths ranging from 24" to 48" and platform lengths of 36" to 48". Specify platform size when ordering.
Service Range: This hydraulic scissor lift unit has lowered heights of either 7" or 8" and a raised height of 31".
Electrical: 460 V AC, 3 Phase, 60 Hertz is Standard. (Optional electrical changes are available including Voltage, Phase and Hertz at an additional charge).
Powered: Optional Air (Rotary Air/Oil or Reciprocating Air/Oil) is available at an additional charge.
Weight: This series comes in a variety of weights ranging from 668 to 792 lbs.
Capacity: These models feature capacities ranging from 1,000 to 6,000 lbs.
Standard: Each Hydraulic Scissor Lift unit comes standard with an external power unit and hand control.
Warranty: To keep the warranty valid you cannot cantilever the geometric ratio weight beyond the center of gravity. All units are quoted the capacity within its deck size and must keep with a uniformly distributed load.
Surcharge: Tariffs or surcharges may apply to current published pricing.
---
Hydraulic Scissor Lift - BEHLTS Series

Model#
Vertical Travel
Platform Width
Platform Length
Capacity (LBS)
Raised Height
Lowered Height
Travel Time (Sec.)
Price
1) BEHLTS-1-31
24"
24"-48"
36"-48"
1,000
31"
7"
5
$4,304.91
2) BEHLTS-2-31
24"
24"-48"
36"-48"
2,000
31"
7"
5
$4,937.52
3) BEHLTS-3-31
24"
24"-48"
36"-48"
3,000
31"
7"
5
$6,098.69
4) BEHLTS-4-31
24"
24"-48"
36"-48"
4,000
31"
7"
10
$6,590.96
5) BEHLTS-5-31
23"
30"-48"
36"-48"
5,000
31"
8"
10
$6,821.06
PROP 65 WARNING
Products on this page may lead to cancer or reproductive harm.
TM
Call Beacon:
800 454-7159