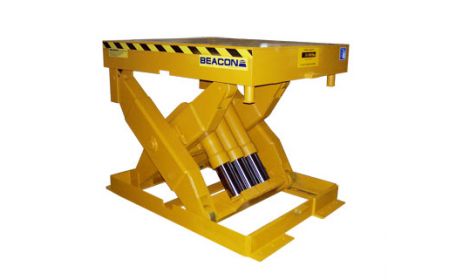 Beacon

®

BMLT Series

This heavy duty Hydraulic Lift Table technology is an electro-hydraulic unit that features a smooth steel platform. Each unit is supplied with standard straight toe guards for surface mounting. If pit mounting is required, please specify when ordering, and beveled toe guards will be supplied at no charge. Call for optional electric toe guard pricing. These models also have cylinder rod end protectors and dual safety restraint maintenance bars.
---
Product Details
Projection: For optional beveled toe guards add 8" to the width and length. For optional straight toe guards with electric toe guard tape switch add 4" to the width and length. Specify the option during quoting for special pricing.
Size: Models come with standard platform sizes ranging from 48" x 60" to 48" x 108" and maximum platform sizes ranging from 72" x 84" to 72" x 132".
Service Range: These Hydraulic Lift Table units have lowered heights of 16" or 20" and a variety of raised heights ranging from 46" to 92".
Electrical: 230 / 480 V AC, 3 Phase, 60 Hz is standard. Other electrical options are available.
Powered: Optional Air (Rotary Air/Oil or Reciprocating Air/Oil) is available at an additional charge.
Installation: Surface or pit mount will end up with different overall heights. The three vertical geometric properties to be aware of is the (1) Lowered height (2) Travel (3) Overall height. When mounting in a pit, your travel will end up as your overall height.
Weight: The Hydraulic Lift Table series comes in a variety of weights ranging from 3,100 to 5,200 lbs.
Scope: It is the customer's responsibility to meet all federal, state and local codes regarding height restrictions and safety requirements.
Note: Payment Terms: This product is special and requires a 20% deposit at time of order, 20% prior to shipment and balance net 30 with approved credit.
Capacity: Models are available with a variety of capacities ranging from 15,000 to 30,000 lbs. Published capacities are rated as evenly distributed when the load is applied in the lowered position and then raised. Any applied load in the raised position, centered, end or side derates the published capacity, contact Beacon for specifications.
Warranty: To keep the Hydraulic Lift Table warranty valid you cannot cantilever the geometric ratio weight beyond the center of gravity. All units are quoted the capacity within its deck size and must keep with a uniformly distributed load.
---
Hydraulic Lift Table - BMLT Series

Model#
Travel
Cap Lbs
Axle Load Max, Concentrated
Platform Std.
Platform Max.
Base
Lowered Height (inches)
Raised Height (inches)
Approx Up Speed
Motor HP
Cyl.
Note
Price
1) BMLT-15-30
30"
15000
12000
48x60
72x84
48x60
16
46
24
5
2
A
$24,348.88
2) BMLT-18-30
30"
18000
16000
48x60
72x84
48x60
16
46
24
5
2
A
$25,348.92
3) BMLT-20-30
30"
20000
16000
48x60
72x84
48x60
20
50
24
5
2
A
$26,588.11
4) BMLT-25-30
30"
25000
24000
48x60
72x84
48x60
20
50
35
5
3
A
$27,588.15
5) BMLT-30-30
30"
30000
24000
48x60
72x84
48x60
20
50
35
5
3
A
$28,783.85
6) BMLT-15-36
36"
15000
12000
48x60
72x84
48x60
16
52
30
5
2
A
$25,348.92
7) BMLT-18-36
36"
18000
16000
48x60
72x84
48x60
16
52
30
5
2
A
$26,327.22
8) BMLT-20-36
36"
20000
16000
48x60
72x84
48x60
20
56
30
5
2
A
$27,327.27
9) BMLT-25-36
36"
25000
24000
48x60
72x84
48x60
20
56
40
5
3
A
$28,827.33
10) BMLT-30-36
36"
30000
24000
48x60
72x84
48x60
20
56
40
5
3
A
$30,066.52
11) BMLT-15-42
42"
15000
12000
48x72
72x96
48x72
16
58
25
5
2
A
$27,088.13
12) BMLT-18-42
42"
18000
16000
48x72
72x96
48x72
16
58
25
5
2
A
$27,827.29
13) BMLT-20-42
42"
20000
16000
48x72
72x96
48x72
20
62
25
5
2
A
$29,566.50
14) BMLT-25-42
42"
25000
24000
48x72
72x96
48x72
20
62
35
5
3
A
$31,066.56
15) BMLT-30-42
42"
30000
24000
48x72
72x96
48x72
20
62
35
5
3
A
$32,544.88

Hydraulic Lift Table - BMLT Series (continued)

Model#
Travel
Cap Lbs
Axle Load Max, Concentrated
Platform Std.
Platform Max.
Base
Lowered Height (inches)
Raised Height (inches)
Approx Up Speed
Motor HP
Cyl.
Note
Price
16) BMLT-15-48
48"
15000
12000
48x72
72x96
48x72
16
64
30
5
2
A
$28,566.45
17) BMLT-18-48
48"
18000
16000
48x72
72x96
48x72
16
64
30
5
2
A
$29,566.50
18) BMLT-20-48
48"
20000
16000
48x72
72x96
48x72
20
68
30
5
2
A
$31,066.56
19) BMLT-25-48
48"
25000
24000
48x72
72x96
48x72
20
68
40
5
3
A
$32,544.88
20) BMLT-30-48
48"
30000
24000
48x72
72x96
48x72
20
68
40
5
3
A
$34,284.09
21) BMLT-18-54
54"
18000
16000
48x84
72x108
48x84
16
70
40
5
2
A
$32,044.86
22) BMLT-20-54
54"
20000
16000
48x84
72x108
48x84
20
74
40
5
2
A
$33,414.49
23) BMLT-25-54
54"
25000
24000
48x84
72x108
48x84
20
74
55
5
3
A
$34,914.55
24) BMLT-30-54
54"
30000
24000
48x84
72x108
48x84
20
74
55
5
3
A
$36,523.32
25) BMLT-15-54
54"
15000
12000
48x84
72x108
48x84
16
70
40
5
2
A
$31,066.56
26) BMLT-15-60
60"
15000
12000
48x84
72x108
48x84
16
76
45
5
2
A
$33,284.05
27) BMLT-18-60
60"
18000
16000
48x84
72x108
48x84
16
76
45
5
2
A
$34,284.09
28) BMLT-20-60
60"
20000
16000
48x84
72x108
48x84
20
80
45
5
2
A
$35,784.16
29) BMLT-25-60
60"
25000
24000
48x84
72x108
48x84
20
80
60
5
3
A
$37,762.50
30) BMLT-30-60
60"
30000
24000
48x84
72x108
48x84
20
80
60
5
3
A
$38,762.54

Hydraulic Lift Table - BMLT Series (continued)

Model#
Travel
Cap Lbs
Axle Load Max, Concentrated
Platform Std.
Platform Max.
Base
Lowered Height (inches)
Raised Height (inches)
Approx Up Speed
Motor HP
Cyl.
Note
Price
31) BMLT-15-72
72"
15000
12000
48x108
72x132
48x108
16
88
45
5
2
A
$34,784.11
32) BMLT-18-72
72"
18000
16000
48x108
72x132
48x108
16
88
45
5
2
A
$35,784.16
33) BMLT-20-72
72"
20000
16000
48x108
72x132
48x108
20
92
45
5
2
A
$36,762.46
34) BMLT-25-72
72"
25000
24000
48x108
72x132
48x108
20
92
60
5
3
A
$38,762.54
35) BMLT-30-72
72"
30000
24000
48x108
72x132
48x108
20
92
60
5
3
A
$39,762.59
Notes:
A: *Standard platforms only. **See options. ***Load that can be rolled over the side or end in any raised position. (Standard platform only.)