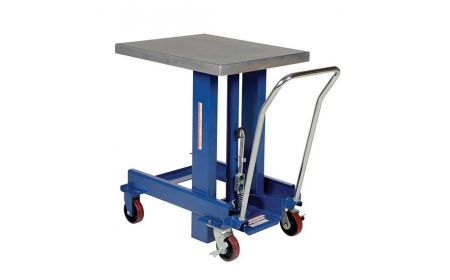 Beacon

®

BDIE Series

The functional Mobile Work Table is designed to reduce back and shoulder injuries by lifting heavy objects to ergonomically proper working height. These Portable Work Platform units are manually operated with a hydraulic foot pump and lift cylinder. The small sized frame allows them to access difficult-to-reach areas. The unit features 2 rigid and 2 swivel casters with a floor lock.
---
Product Details
Construction: Each unit features all welded steel construction.
Size: The BDIE series has a platform size of 24" wide x 30" long and a 41" high handle.
Operating Range: The BDIE-2430-36 model has an operating range from 24" to 36". The BDIE-2430-48 has an operating range from 31-7/8" to 49-1/2". The BDIE-2430-60 has an operating range from 36" to 60"
Color: Models are painted Beacon Blue with a steel handle and steel platform.
Weight: Models weigh 290, 295, or 344 lbs.
Capacity: 2,000 lbs.
Standard: Standard casters on the Mobile Work Table are 5" in diameter x 2" wide.
Surcharge: Tariffs or surcharges may apply to current published pricing.
---
Mobile Work Table - BDIE Series

Model#
Platform Size (W x L)
Lowered Height
Raised Height
Capacity (LBS)
Price
1) BDIE-2430-36
24"x30"
24"
36"
2,000
$1,110.34
2) BDIE-2430-48
24"x30"
31-7/8"
49½"
2,000
$1,139.76
3) BDIE-2430-60
24"x30"
36"
60"
2,000
$1,227.91
PROP 65 WARNING
Products on this page may lead to cancer or reproductive harm.
TM
Call Beacon:
800 454-7159