Lift Table With Air Tires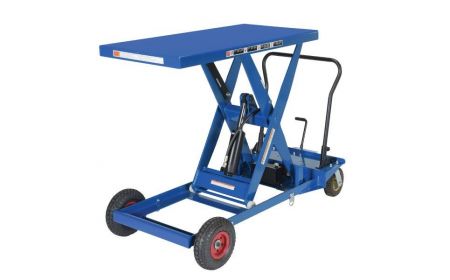 Beacon

®

BCART series

This Lift Table With Air Tires is the perfect solution for decreasing workers fatigue in areas with rough terrain. Oversized front and rear air tires make transporting materials easy over rugged surfaces. The portable lift cart is manufactured with heavy duty steel and includes a hydraulic valve for smooth lowering.
---
Product Details
Construction: This Lift Table with Air Tires is manufactured with welded steel and features a powder coat finish for durability and toughness.
Size: Units have platform sizes starting at 20-1/2" x 27-1/2" up to 24" x 48".
Service Range: Different models have different lowered and raised heights. The lowest model is the BCART-PN-400 with a lowered height of 15" and the maximum raised height is 67" for the BCART-PN-600-D a lowered height of 15" and a raised height of 67".
Powered: Hydraulic operating system powers the platform.
Usage: Pneumatic air tires make this unit great for construction sites, farms, uneven pavement, gravel roads, nurseries and gardens.
Operation: An easy to use hydraulic system makes raising and lowering the platform effortless. Includes a soft lowering down valve.
Capacity: Uniform capacity for these units are rated at 400 lbs. to 1,500 lbs.
Surcharge: Tariffs or surcharges may apply to current published pricing.
---
Lift Table With Air Tires - BCART series

Model#
Capacity (lbs.)
Platform Size (W x L)
Service Range
Wheel Size Front / Rear
Price
1) BCART-PN-400
400
20½"x27½"
15" to 34½"
7-7/8" / 7-7/8"
$1,190.48
2) BCART-PN-600
600
20½"x33½"
16-1/8" to 40"
7-7/8" / 7-7/8"
$1,528.65
3) BCART-PN-600-D
600
20½"x40"
21½" to 67"
13" / 10"
$2,173.17
4) BCART-PN-1000
1,000
24"x48"
13½" to 46½"
13" / 9-7/8"
$2,173.17
5) BCART-PN-1500
1,500
20½"x40"
21½" to 43¾"
13" / 9-7/8"
$1,923.04
PROP 65 WARNING
Products on this page may lead to cancer or reproductive harm.
TM
Call Beacon:
800 454-7159