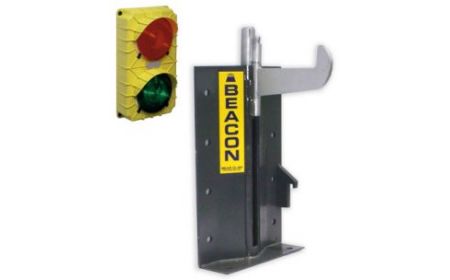 Bear Claw

®

BMVR Series

Trailer Restraints will help to prevent unscheduled truck departures and trailer creep by locking the trailer ICC bar to the dock. The Manual Truck Restraint unit helps keep loading docks safe by reducing the chance for accidents, such as those sometimes caused by roll away trucks.
---
Product Details
Construction: Features heavy-duty steel construction.
Size: The manual unit has some of the smallest body profiles in the industry, making equipment damage less inherent.
Electrical: 115 V AC, 1 Phase, 60 Hz is standard.
Installation: Units are installed on the front face dock wall. There is no concrete or pit work required. Expansion head bolts are required for fast installation. Four-inch-thick dock bumpers are required.
Note: The customer may receive lower insurance premiums by installing a trailer restraint. Call your insurance broker and underwriter or call Beacon's office.
Operation: A visual inspection of BMVR hook engagement is necessary & should show the ICC bar captured before operating the dock leveler. Visual hook inspection is necessary with the traffic signal light option to prevent a false read. Chocks are also recommended.
Capacities: The unit provides a 50,000 lbs. draw pull capacity.
Standard: This series is operated with a push rod and have all-weather frames. Driver warning signs are standard with all models.
Options: These Bear Claw® Trailer Restraints have manual or automatic traffic signal dock lights.
Warranty: The standard Beacon warranty is inclusive as a one-year structural and parts limited warranty.
---
Bear Claw® BMVR105 Manual Trailer Restraints, Auto Traffic Dock Lights & Driver Signs - BMVR Series

Model#
Description
Operating Range
Restraining Force (LBS)
Traffic Signal Dock Light
Operation
Voltage
Driver Warning Signs
Price
1) BMVR105
Mechanical Trailer Restraints
12" to 30"
50,000
Automatic Inside/Outside Traffic Light
Push Rod
115V AC / 1 Ph / 60 Hz
(1) Inside / (2) Outside
$3,813.65

Bear Claw® BMVR103 Manual Trailer Restraints, Manual Traffic Dock Lights & Driver Signs - BMVR Series

Model#
Description
Operating Range
Restraining Force (LBS)
Traffic Signal Dock Light
Operation
Voltage
Driver Warning Signs
Price
2) BMVR103
Mechanical Trailer Restraints
12" to 30"
50,000
Manual Inside/Outside Traffic Light
Push Rod
115V AC / 1 Ph / 60 Hz
(1) Inside / (2) Outside
$3,571.97

Bear Claw® BMVR100 Manual Trailer Restraints includes Driver Signs - BMVR Series

Model#
Description
Operating Range
Restraining Force (LBS)
Traffic Signal Dock Light
Operation
Voltage
Driver Warning Signs
Price
3) BMVR100
Mechanical Trailer Restraints
12" to 30"
50,000
None
Push Rod
None
(1) Inside / (2) Outside
$2,846.47

OPTION - Trailer Restraints

Model#
Description
Projection
Price
4) B1695
Block Out used with thick bumpers
2.00"
$358.02
5) B1698
Block Out used with thick bumpers
5.00"
$699.95
6) B1713
Block Out used with thick bumpers
6.50"
$528.13
7) B1714
Block Out used with Edge of Dock Leveler
11.00"
$616.38