Dock Traffic Control Light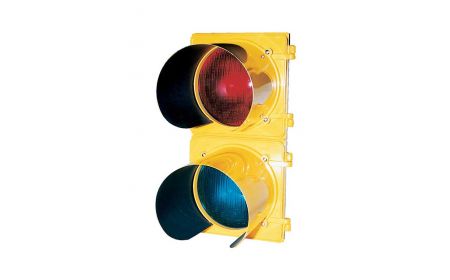 Beacon

®

BDTS Series

The Dock Traffic Control Light - Traffic Dock System helps to prevent accidents that are caused by premature loading dock departure. This series allows dock workers to signal to the drivers safely and easily. This is a deluxe unit which includes one red and green stop-go light for outside, an illuminated push-button panel for inside, and three "Caution" signs to inform drivers of correct safety procedures (1 inside and 2 outside).
---
Product Details
Construction: Units feature an aluminum housing.
Size: Units are 21-3/4" wide x 22-1/2" long x 14" high.
Electrical: Units require 115V, single phase power.
Power: Units feature 60 Watts of power.
Color: Models have Beacon yellow housing with one red and one green light.
Weight: 30 lbs.
Standard: These Dock Traffic Control Light units feature an 8" sun visor hood over each lens, which is recommended for optimum visibility for south and west exposure.
---
Dock Traffic Control Light - BDTS Series

Model#
Description
Overall Size (W x L x H)
Hood Projection
Watts
AC Voltage / Phase
Includes
Price
1) BDTS-10
Aluminum Housing
21¾"x22½"x14"
8"
60
115 / Single
Lights, Control Panel, 1 Inside Sign, 2 Outside Signs
$1,333.12