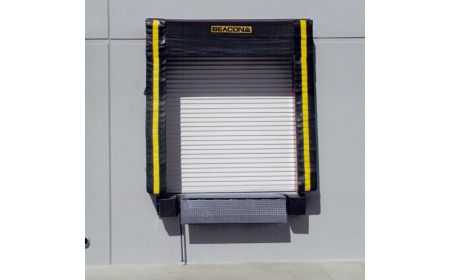 Beacon

®

B101-8x10 Series

Loading Dock Door Seal includes an auto push back head curtain adjusted automatically as the truck backs into the dock. Features wrap-around-style material to protect the wood and foam from the outside elements. The Warehouse Dock Seal unit features safety yellow guide strips and breather slots on the side and head pads. The auto head curtain protects the area above 8' high that is not covered by the trailer.
---
Product Details
Construction: The unit is constructed of treated wood and solid polyurethane foam.
Projection: The 10" projection model is to be used with a 4" to 5" dock bumper projection. The 20" projection model is to be used with an edge of dock leveler inclusive with a 14" to 15" dock bumper projection. Special projections available.
Size: The units are designed to fit a dock door with an 8' wide x 10' high opening.
Installation: The units include all required mounting brackets.
Standard: The unit comes standard with beveled side pads and condensation holes.
Options: The unit is available with an optional steel mesh armor to assist in theft protection, available with built-in foam back to create a tight seal between truck and dock and optional tapered seals for inclining or declining driveways.
Materials: The Loading Dock Door Seal is available in vinyl-coated nylon, Hypalon-coated nylon, or Neoprene-coated nylon.
Surcharge: Tariffs or surcharges may apply to current published pricing.
---
PROP 65 WARNING
Products on this page may lead to cancer or reproductive harm.
TM
Call Beacon:
800 454-7159