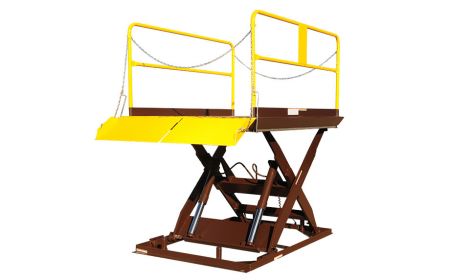 Beacon

®

BWL-100 Series

This traditional Loading Dock Lift reduces employee work hours in work areas with no docks. Its design features push-button control via a 24 V AC on a 20' coil cord. The hydraulic cylinders feature an emergency velocity fuse should the line break. The pre-wired control box has a magnetic starter and overload fuse.
---
Product Details
Construction: The checkered plate deck is constructed of heavy-gauge steel.
Size: This unit is available in a variety of platform sizes ranging from 48" wide x 96" long to 96" wide x 144" long. The overall frame sizes range from 41" wide x 93" long to 86" wide x 118" long.
Service Range: This series comes with lowered heights ranging from 8" to 14" and raised heights ranging from 68" to 72".
Electrical: 460 V AC, 3 Phase, 60 Hertz is standard. (Optional electrical changes are available including Voltage, Phase and Hertz at an additional charge).
Powered: Optional Air (Rotary Air/Oil or Reciprocating Air/Oil) is available at an additional charge.
Power: The Loading Dock Lift has an external 6.5 Hp motor.
Installation: Surface or pit mount will end up with different overall heights. The three vertical geometric properties to be aware of is the (1) Lowered height (2) Travel (3) Overall height. When mounting in a pit, your travel will end up as your overall height.
Color: Waterbase enamel, ergonomic brown frame with yellow safety handrails.
Weight: The units come in weights ranging from 3,125 to 7,436 lbs.
Note: It is the customer's responsibility to meet all federal, state and local codes regarding height restrictions and safety requirements.
Operation: Rain proof pendant 24 Vac hand control on a 4 foot - 20 foot coil cord. If power failure occurs, remove the cover off the power unit and turn a knob for manual lowering procedure.
Capacities: Models are available in capacities ranging from 5,000 to 12,000 lbs.
Standard: Removable handrails with fixed toeboards come standard for the Loading Dock Lift.
Warranty: Standard Limited Warranty is 1 year from date of shipment. An optional extended 2, 5, or 10 year Limited Warranty is available for an additional cost. All warranties include parts only, warranty does not include labor, service, adjustments, consequential damage or freight damage repair. See Beacon for warranty details. Warranty is valid after full payment is made.
---
Loading Dock Lift - BWL-100 Series

Model#
Platform Size (W x L)
Lowered Height
Raised Height
Capacity (LBS)
Overall Frame Size
Price
1) BWL-100-5-48
48"x96"
8"
68"
5000
41"Wx93"L
$9,441.28
2) BWL-100-5-68
72"x96"
8"
68"
5000
62"Wx93"L
$10,134.11
3) BWL-100-5-78
84"x96"
8"
68"
5000
62"Wx93"L
$11,162.83
4) BWL-100-5-88
96"x96"
8"
68"
5000
86"Wx93"L
$11,806.78
5) BWL-100-5-610
72"x120"
8"
68"
5000
62"Wx93"L
$11,611.48
6) BWL-100-5-710
84"x120"
8"
68"
5000
62"Wx93"L
$12,124.12
7) BWL-100-5-810
96"x120"
8"
68"
5000
86"Wx93"L
$12,636.76
8) BWL-100-6-68
72"x96"
10"
70"
6000
62"Wx93"L
$10,581.62
9) BWL-100-6-78
84"x96"
10"
70"
6000
62"Wx93"L
$11,582.40
10) BWL-100-6-88
96"x96"
10"
70"
6000
86"Wx93"L
$12,583.30
11) BWL-100-6-610
72"x120"
10"
70"
6000
62"Wx93"L
$12,288.05
12) BWL-100-6-710
84"x120"
10"
70"
6000
62"Wx93"L
$12,597.26
13) BWL-100-6-810
96"x120"
10"
70"
6000
86"Wx93"L
$12,660.00
14) BWL-100-8-68
72"x96"
10"
70"
8000
62"Wx93"L
$14,854.70
15) BWL-100-8-78
84"x96"
10"
70"
8000
62"Wx93"L
$15,619.54
16) BWL-100-8-88
96"x96"
10"
70"
8000
86"Wx93"L
$15,879.98
17) BWL-100-8-610
72"x120"
10"
70"
8000
62"Wx118"L
$16,038.08
18) BWL-100-8-710
84"x120"
10"
70"
8000
62"Wx118"L
$16,527.48
19) BWL-100-8-810
96"x120"
10"
70"
8000
86"Wx118"L
$17,231.87

Loading Dock Lift - BWL-100 Series (continued)

Model#
Platform Size (W x L)
Lowered Height
Raised Height
Capacity (LBS)
Overall Frame Size
Price
20) BWL-100-10-68
72"x96"
14"
72"
10000
62"Wx93"L
$17,927.00
21) BWL-100-10-78
84"x96"
14"
72"
10000
62"Wx93"L
$18,923.20
22) BWL-100-10-88
96"x96"
14"
72"
10000
86"Wx93"L
$19,434.70
23) BWL-100-10-610
72"x120"
14"
72"
10000
62"Wx118"L
$19,468.35
24) BWL-100-10-710
84"x120"
14"
72"
10000
62"Wx118"L
$19,756.61
25) BWL-100-10-810
96"x120"
14"
72"
10000
86"Wx118"L
$20,356.49
26) BWL-100-10-612
72"x144"
14"
72"
10000
62"Wx118"L
$20,649.44
27) BWL-100-10-712
84"x144"
14"
72"
10000
62"Wx118"L
$20,821.39
28) BWL-100-10-812
96"x144
14"
72"
10000
86"Wx118"L
$23,678.70
29) BWL-100-12-68
72"x96"
14"
72"
12000
62"Wx93"L
$19,199.90
30) BWL-100-12-78
84"x96"
14"
72"
12000
62"Wx93"L
$20,230.91
31) BWL-100-12-88
96"x96"
14"
72"
12000
86"Wx93"L
$20,407.66
32) BWL-100-12-610
72"x120"
14"
72"
12000
62"Wx118"L
$20,537.83
33) BWL-100-12-710
84"x120"
14"
72"
12000
62"Wx118"L
$21,008.57
34) BWL-100-12-810
96"x120"
14"
72"
12000
86"Wx118"L
$21,550.29
35) BWL-100-12-612
72"x144"
14"
72"
12000
62"Wx118"L
$21,377.08
36) BWL-100-12-712
84"x144"
14"
72"
12000
62"Wx118"L
$21,774.67
37) BWL-100-12-812
96"x144
14"
72"
12000
86"Wx118"L
$24,753.90