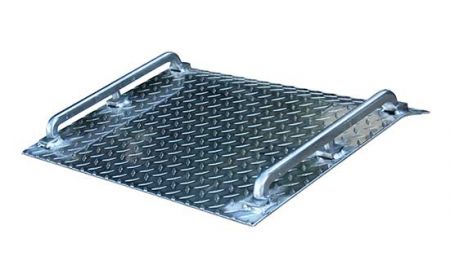 Beacon

®

BAMD Series

The truck Loading Dock Ramp is made to scale high door thresholds and 3" or 6" curbs. This Dock Trailer Plate is excellent for hand truck use. These aluminum units have carrying handles and feature a diamond treadplate surface for optimum traction.
---
Product Details
Size: These Loading Dock Ramp units are 18" long and either 24", 30", or 36" wide.
Weight: Models have weights of 10, 12, or 14 lbs.
Capacity: Loading Dock Ramp models are available with capacities of 500, 600, or 700 lbs.
Surcharge: Tariffs or surcharges may apply to current published pricing.

WARNING This product can expose you to lead, which is known to the State of California to cause cancer and birth defects or other reproductive harm.
---
Loading Dock Ramp - BAMD Series

Model#
Width
Length
HT Diff.
Capacity (LBS)
Note
Price
1) BAMD-2418
24"
18"
2½"
500
A
$159.70
2) BAMD-3018
30"
18"
2½"
600
A
$178.36
3) BAMD-3618
36"
18"
2½"
700
A
$223.01
Notes:
A: Scales 3" to 5" High Curbs or Thresholds. Designed for 2 Wheel Hand Truck Use Only

PROP 65 WARNING
Products on this page may lead to cancer or reproductive harm.
TM
Call Beacon:
800 454-7159