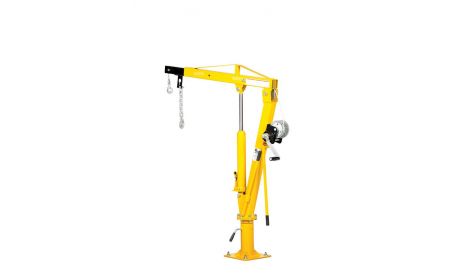 Bear Claw

®

BWTJ Series

The Truck Jib Crane is designed to lift loads from the ground to truck bed height, then rotate them into the cargo area. The unit adjusts up to 105" and includes a telescopic boom design with manual hydraulic hand pump. This series swivels on a 360-degree base. These units are designed to move equipment only and not personnel.
---
Product Details
Construction: Each model features all welded steel construction.
Size: The unit has a 49-1/4" reach, a mounting plate of 10-1/2" x 10-1/2" and a base height of 12-1/2".
Service Range: Units have an extended boom reach of 49-3/8" and a retracted boom length of 32-78". The lift range is from 0 to 105" when extended with a maximum lift of 90" and 13" to 90-1/2" when retracted with a maximum lift of 106".
Color: Truck Jib Crane models come standard with a painted safety yellow finish. The -G series features a galvanized finish.
Operation: This series features a piston stroke of 16-3/8", 1/16" piston stroke per pump, and a maximum usable cable length of 108". Units require 72 cranks to retract or extend cable fully.
Capacity: This series supports either 1,000 or 2,000 lbs. when the boom is retracted and 500 or 1,000 lbs. when extended.
Standard: This series comes with one grab hook, one chain slot lock, and one sling hook with latch.
Materials: The winch operated Truck Jib Crane models feature a manual cable winch (with 1/4" cable diameter) to lift and lower loads. Vehicles are not to be moved while crane is loaded.
Documents
---
Bear Claw® Truck Jib Crane - BWTJ Series

Model#
Ext. Capacity
Retr. Capacity
Ext. Boom Reach
Retr. Boom Reach
Ext. Lift Range
Retr. Lift Range
Ext. Max. Lift
Retr. Max. Lift
Finish
Price
1) BWTJ-2
500
1,000
49-3/8"
32-7/8"
0 to 105"
13" to 90½"
90"
106"
Yellow
$351.78
2) BWTJ-2-G
500
1,000
49-3/8"
32-7/8"
0 to 105"
13" to 90½"
90"
106"
Galvanized
$585.31
3) BWTJ-4
1,000
2,000
49-3/8"
32-7/8"
0 to 105"
13" to 90½"
90"
106"
Yellow
$383.55
4) BWTJ-4-G
1,000
2,000
49-3/8"
32-7/8"
0 to 105"
13" to 90½"
90"
106"
Galvanized
$619.71