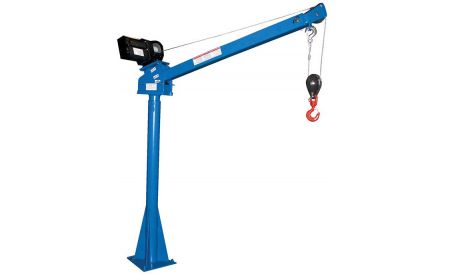 Bear Claw

®

BWTJ-20 Series

The Electric Jib Crane lifts and maneuvers heavy materials. The unit is available in either heavy-duty (BWTJ) or light-duty (BWTJ-E) models. Both models are available in AC or DC power. The heavy-duty models have rotation hand brakes that offer unlimited 360-degree positioning. The boom adjusts in 12" increments and can be positioned at three elevations. The light-duty models feature 360-degree locking manual rotation as well as 25' of 5/32" cable with swivel snatch block and safety latch.
---
Product Details
Construction: Units feature heavy duty steel construction.
Size: The units have boom reaches of either 40" to 63", 42" to 66" or 52" to 87".
Service Range: This series features a boom height range of 54-1/2" to 88-1/2", 54-1/2" to 99", and 41-1/2" to 65-1/2". Longer cable lengths and lift ranges are not available.
Electrical: This unit is available as 12V DC, 1/3 Hp with 12' removable plug in pendant control or 115V AC, 1/2 Hp with fingertip switch on the unit to raise or lower the hook. Wiring by others.
Installation: Indoor use. All cranes are shipped disassembled. All products should be inspected frequently to ensure safe operation. Final testing & inspecting is left to the end user after final assembly has been completed. For further details see ASME B30.17.
Color: The Electric Jib Crane is powder-coated Beacon blue. An optional galvanized finish is also available; ask Beacon for details.
Weight: This product weighs between 245 and 255 lbs.
Scope: The BWTJ series heavy duty unit DC models include 25 feet of 3/16" aircraft-grade wire rope with swivel hook and safety latch. Folds for storage when not in use.
Note: It is the customer's responsibility to verify correctness of fit for applications. It is the customer's responsibility to verify that this unit complies with all safety laws, codes and regulations.
Capacity: The models feature capacities of 1,500 or 2,000 lbs.
Standard: These units are available for lifting objects only and not personnel.
Options: A handheld, push-button control is available for AC Electric Jib Crane models only.
---
Bear Claw® Electric Jib Crane - Heavy Duty - BWTJ-20 Series

Model#
Operation
Application
Capacity (LBS)
Boom Reach
Boom Height
Price
1) BWTJ-20-3-DC
12V DC
Controlled Environment
2,000
40" to 63"
54½" to 88½"
$3,111.85
2) BWTJ-20-4-DC
12V DC
Controlled Environment
2,000
52" to 87"
54½" to 99"
$3,240.46
3) BWTJ-20-3-AC
115V AC
Controlled Environment
2,000
40" to 63"
54½" to 88½"
$3,861.26
4) BWTJ-20-4-AC
115V AC
Controlled Environment
2,000
52" to 87"
54½" to 99"
$3,995.44

Bear Claw® Electric Jib Crane - Light Duty - BWTJ-20 Series

Model#
Operation
Application
Capacity (LBS)
Boom Reach
Boom Height
Price
5) BWTJ-E-15-3-DC
12V DC
Controlled Environment
1,500
42" to 66"
41½" to 65½"
$2,491.05
6) BWTJ-E-15-3-AC
115V AC
Controlled Environment
1,500
42" to 66"
41½" to 65½"
$3,168.40

OPTION

Model#
Description
Price
7) BWTJ-WINCH-AC-HHPB
Handheld push-button control for AC models
$234.74