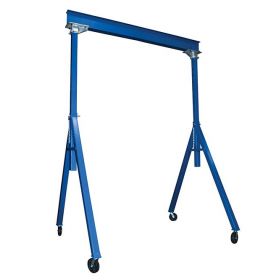 Bear Claw
®
BAHS Series
The A Frame Hoist - Steel Gantry Crane is perfect for transporting and positioning large, bulky materials. Four 8" swivel casters enable swift portability within a facility and V-groove casters with track are also available. This unit has an adjustable height in 6" increments.
---
Product Details
Construction: Models are constructed of heavy-duty steel.
Size: Span beam width: 10', 15' and 20'. There is a 5' minimum height to 16'-1" maximum height under I-beam to ground.
Installation: All cranes are shipped disassembled. Inspect frequently to ensure safe operation. Final testing and inspecting is left to the end user after final assembly has been completed. For further details see ASME B30.17.
Color: All models feature a blue powder coat finish.
Weight: Adjustable height A Frame Hoist models range from 808 lbs to 1,699 lbs.
Note: Hoist and trolley sold separately.
Operation: This gantry crane is not to be moved while loaded. This series positions into place manually.
Capacities: This series has capacities ranging from 2,000 to 10,000 lbs.
Options: Lever ratchet for user friendly one person height adjustment, total locking casters, V-groove casters, V-groove track, and power traction drive with 3-button hand controls are all available as A Frame Hoist options.
Warranty: One year structural.
BAHS - 1 - Video

BEHLT - 2 - Video
Documents
Options
---
Bear Claw® A Frame Hoist - BAHS Series

Model#
Capacity (LBS)
Beam Length
Beam Height
Under I-Beam Range
Base Width
Flange Width
Note
Price
1) BAHS-2-10-12
2,000
10'
6"
7'-6" to 12'
77"
3"
A
$2,306.20
2) BAHS-2-10-14
2,000
10'
6"
8'-6" to 14'
89"
3"
A
$2,545.14
3) BAHS-2-10-16
2,000
10'
6"
10'-6" to 16'
89"
3"
A
$3,069.53
4) BAHS-2-15-7
2,000
15'
6"
5' to 7'
47"
3"
A
$2,053.20
5) BAHS-2-15-9
2,000
15'
6"
6' to 9'
59"
3"
A
$2,131.05
6) BAHS-2-15-10
2,000
15'
6"
6'-6" to 10'
65"
3"
A
$2,206.73
7) BAHS-2-15-12
2,000
15'
6"
7'-6" to 12'
77"
3"
A
$2,536.50
8) BAHS-2-15-14
2,000
15'
6"
8'-6" to 14'
89"
3"
A
$2,711.65
9) BAHS-2-15-16
2,000
15'
6"
10'-6" to 16'
89"
3"
A
$3,233.87
10) BAHS-2-20-12
2,000
20'
8"
7'-6" to 12'
77"
6"
A
$2,685.70
11) BAHS-2-20-14
2,000
20'
8"
8'-6" to 14'
89"
6"
A
$2,927.89
12) BAHS-2-20-16
2,000
20'
8"
10'-6" to 16'
89"
6"
A
$3,453.35
13) BAHS-4-10-12
4,000
10'
8"
7'-6" to 12'
77"
6"
A
$2,469.46
14) BAHS-4-10-14
4,000
10'
8"
8'-6" to 14'
89"
6"
A
$2,674.89
15) BAHS-4-10-16
4,000
10'
8"
10'-6" to 16'
89"
6"
A
$3,199.27
16) BAHS-4-15-7
4,000
15'
8"
5' to 7'
47"
6"
A
$2,215.38
17) BAHS-4-15-9
4,000
15'
8"
6' to 9'
59"
6"
A
$2,299.71
18) BAHS-4-15-10
4,000
15'
8"
6'-6" to 10'
65"
6"
A
$2,379.72
19) BAHS-4-15-12
4,000
15'
8"
7'-6" to 12'
77"
6"
A
$2,706.24
20) BAHS-4-15-14
4,000
15'
8"
8'-6" to 14'
89"
6"
A
$3,160.35
21) BAHS-4-15-16
4,000
15'
8"
10'-6" to 16'
89"
6"
A
$3,682.57
22) BAHS-4-20-12
4,000
20'
10"
7'-6" to 12'
77"
5"
A
$3,344.15
23) BAHS-4-20-14
4,000
20'
10"
8'-6" to 14'
90"
5"
A
$3,564.72
24) BAHS-4-20-16
4,000
20'
10"
10'-6" to 16'
89"
5"
A
$4,088.02
25) BAHS-6-10-12
6,000
10'
8"
7'-7" to 12'-1"
78"
6"
A
$2,549.47
26) BAHS-6-10-14
6,000
10'
8"
8'-6" to 14'
90"
6"
A
$2,752.74
27) BAHS-6-10-16
6,000
10'
10"
10' to 16'
90"
6"
A
$3,371.18
28) BAHS-6-15-7
6,000
15'
10"
5'-1" to 7'-1"
48½"
5"
A
$2,475.95
29) BAHS-6-15-9
6,000
15'
10"
6'-1" to 9'-1"
60½"
5"
A
$2,542.98
30) BAHS-6-15-10
6,000
15'
10"
6'-7" to 10-'1"
66½"
5"
A
$2,631.64
31) BAHS-6-15-12
6,000
15'
10"
7'-7" to 12'-1"
78"
5"
A
$2,985.19
32) BAHS-6-15-14
6,000
15'
10"
8'-6" to 14'
90"
5"
A
$3,245.76
33) BAHS-6-15-16
6,000
15'
10"
10'-7" to 16'-1"
90"
5"
A
$3,860.97
34) BAHS-6-20-12
6,000
20'
10"
7'-7" to 12'-1"
78"
5"
A
$3,310.63
35) BAHS-6-20-14
6,000
20'
10"
8'-6" to 14'
90"
5"
A
$3,572.28
36) BAHS-6-20-16
6,000
20'
10"
10'-7" to 16'-1"
90"
5"
A
$4,191.81

Bear Claw® A Frame Hoist - BAHS Series (continued)

Model#
Capacity (LBS)
Beam Length
Beam Height
Under I-Beam Range
Base Width
Flange Width
Note
Price
37) BAHS-8-10-12
8,000
10'
10"
7'-7" to 12'-1"
78"
5"
A
$2,820.85
38) BAHS-8-10-14
8,000
10'
10"
8'-6" to 14'
90"
5"
A
$3,014.39
39) BAHS-8-10-16
8,000
10'
10"
10'-7" to 16'-1"
90"
5"
A
$3,700.95
40) BAHS-8-15-7
8,000
15'
10"
5' to 7'
46"
5"
A
$2,746.25
41) BAHS-8-15-9
8,000
15'
10"
6' to 9'
58"
5"
A
$2,821.93
42) BAHS-8-15-10
8,000
15'
10"
6'-6" to 10'
64"
5"
A
$2,914.92
43) BAHS-8-15-12
8,000
15'
10"
7'-7" to 12'-1"
77"
5"
A
$3,100.88
44) BAHS-8-15-14
8,000
15'
10"
8'-6" to 14'
90"
5"
A
$3,359.29
45) BAHS-8-15-16
8,000
15'
10"
10'-7" to 16'-1"
90"
5"
A
$4,048.01
46) BAHS-8-20-12
8,000
20'
12"
7'-7" to 12'-1"
78"
6"
A
$3,851.23
47) BAHS-8-20-14
8,000
20'
12"
8'-6" to 14'
90"
6"
A
$4,091.26
48) BAHS-8-20-16
8,000
20'
12"
10'-7" to 16'-1"
90"
6"
A
$4,778.90
49) BAHS-10-15-10
10,000
15'
12"
6'-6" to 10'
64½"
6"
A
$4,950.81
Notes:
A: * Deduct 12" for distance between upright; (4) 8" 4-position Swivel Lock Phenolic Casters Standard; Adjustable in 6" Increments