Truck Restraints
Truck Restraints - Dock Restraint - Read about uses and applications.
Dock truck restraints will help keep loading docks safe by reducing the chance for accidents. Superior design and reliability provides a check and balance system at your loading dock. The vehicle restraint are designed to keep trucks and trailers from prematurely pulling away from docks. The units are available as manual or a push button control electric hydraulic type. The dock trailer restraint can help to eliminate trailer creep, which can be hazardous to loading crews. It is always safer to use wheel chocks in orchestration with truck restraint locking systems. Please refer to OSHA 1910.178(k)(1) Fixed jacks many be necessary to support a semitrailer during loading or unloading when the trailer is not coupled to a tractor. OSHA Subject: 29 CFR 1910.178(k)(1) and (m)(7): Mechanical Means to Secure Trucks or Trailers to a Loading Dock.
---
Click one of the 2 highlighted links below for pricing and product descriptions of our Truck Restraints.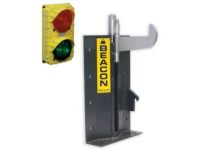 This BMVR Series Manual Trailer Restraints includes push rod activation. Rugged in design with 50,000 lbs. of restraint draw pull. Built to assist in preventing unscheduled truck departure from the loading dock. Optional traffic signal dock lights inside and outside. Driver warning signs are standard for inside and outside.

View 7 Models
starting at $

2,811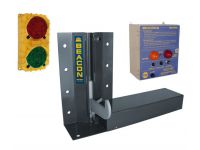 This BEVR Series Electric Dock Truck Restraints include 115 Vac, push button control. 50,000 lbs of restraint draw pull. Prevents in assisting premature truck departure at the dock. Standard as part of the package includes a featured Nema 12 push button control box with traffic dock lights for inside and outside. Driver warning standard.

View 6 Models
starting at $

4,932
Additional Loading Dock Equipment: